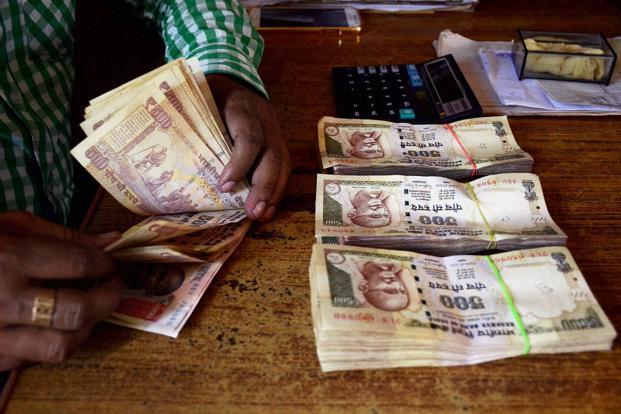 The Congress and other Opposition parties have decided to observe November 8, the date when Prime Minister Narendra Modi last year announced demonetisation, as "Black Day".
Taking to micro-blogging site Twitter, Congress vice-president Rahul Gandhi on Wednesday said that demonetisation is a tragedy and he stands with millions of honest Indians, whose lives and livelihoods were destroyed by prime minister's thoughtless act.
The past year have seen reactions on both sides of the spectrum - while the decision has been widely criticised by all opposition parties, the government has stood by its decision. While former Prime Minister Manmohan Singh called the demonetisation move disastrous, Finance Minister Arun Jaitley on Tuesday rejected the charge by saying there was an ethical and moral rationale behind the decision which had given a "new direction" to the economy.
HERE ARE THE LIVE UPDATES:
03:15 pm: West Bengal Chief Minister Mamata Banerjee has described demonetisation as "DeMoDisaster", a "Big Scam" and marked it as a 'Black Day' in the history of India. She also changed her Twitter DP to a black image in a sign of protest. "I have turned my Twitter DP black #DeMoDisaster. Let us raise our voices #Nov8BlackDay," she wrote. 
02.45 pm: BSP Chief Mayawati accused the Modi government of implementing the demonetisation drive in a "hasty" manner and said that the BJP should observe the day as "demonetisation forgiveness day" instead of "anti-black money day".
02.30 pm: Commerce and Industry Minister Suresh Prabhu said that the historic move delivered positive results and it was a severe blow to the black money. "The government is serious against the black money and has been taking steps curb it. Demonetisation was one of the crucial decisions against the illegal wealth,"he said
02:26 pm: Rahul Gandhi has tweeted against Demonetisation by using Nand Lal but Nand Lal has stated on record that he supports Modi Ji: Ravi Shankar Prasad on iconic photo of ex-serviceman crying in queue outside a bank
02:24 pm: During investigation, CBI has so far arrested 21 public servants and 26 private persons out of 307 accused found to be involved in these cases: ANI
02:23 pm: CBI has registered 77 cases & 7 preliminary enquiries during post demonetisation relating to exchange of demonetised currency in various depts/agencies incl. banks, post offices, railways, insurance companies etc. Amount involved in these cases is around Rs. 395.19 Cr (approx): ANI
02:20 pm: CBI Director has given top priority to investigation of demonetisation related cases. He has directed various teams investigating cases to complete investigation in a time bound manner: CBI spokesperson Abhishek Dayal
12:05 pm: If Rahul Gandhi was in any other party he would've been shown the way out, wherever he steps in Congress loses elections, says Ravi Shankar Prasad.
Sheikh Chilli ke sapne dekh rahe hain Rahul Ji. India is becoming Congress-free, they are being driven out of states, one after the other: Piyush Goyal pic.twitter.com/MjXK1MzyOY

— ANI (@ANI) November 8, 2017
Objectives of demonetisation have changed more times than @narendramodi has said 'Mitron'.#BJPMoneyLaunderingDay pic.twitter.com/XcK9ZDyIxk

— Congress (@INCIndia) November 8, 2017
11:35 am: The "Master's Strokes" have hurt India and given our economy a stroke: Rahul Gandhi tweets
11:34 am: Rahul Gandhi writes for Financial Times, says "Demonetisation has wiped out 2% of GDP and ruined the lives of millions of workers." 
"एक आँसू भी हुकूमत के लिए ख़तरा है
तुमने देखा नहीं आँखों का समुंदर होना" pic.twitter.com/r9NuCkmO6t

— Rahul Gandhi (@RahulGandhi) November 8, 2017
10:18 am: Biggest achievement is that terrorism has been badly hit and the stone pelters which were in thousands have reduced because their cash flow has been cut, says Defence Minister Nirmala Sitharaman on one year anniversary of demonetisation
Uttar Pradesh: Bharatiya Janata Party workers in Varanasi celebrate the first anniversary of #Demonetisation. pic.twitter.com/Cmf8SZD45R

— ANI UP (@ANINewsUP) November 8, 2017
09:40 am: Congress vice-president Rahul Gandhi will today participate in a candle-light vigil as part of the Opposition parties' "Black Day" protest in Surat, the textile and diamond capital of the country.
Chhattisgarh: Marathon organised by Congress to observe 'black day' on one year anniversary of #Demonetisation pic.twitter.com/w0wHVB5riO

— ANI (@ANI) November 8, 2017
08:05 am: The Congress and several Opposition parties will today hold protests against note ban in several parts of the country.
125 crore Indians fought a decisive battle and WON. #AntiBlackMoneyDay pic.twitter.com/3NPqEBhqGq

— Narendra Modi (@narendramodi) November 8, 2017
07:15 am: "I bow to the people of India for steadfastly supporting the several measures taken by the Government to eradicate corruption and black money," tweets PM Narendra Modi.
Here are the benefits of demonetisation, encapsulated in this short film. Have a look. #AntiBlackMoneyDay pic.twitter.com/rPmGUYnTzI

— Narendra Modi (@narendramodi) November 8, 2017
07:15 am: Demonetisation is a tragedy. We stand with millions of honest Indians, whose lives & livelihoods were destroyed by PM's thoughtless act, says Congress vice-president Rahul Gandhi
07:00 am: Youth Congress members protested outside RBI office in Delhi on one year of demonetisation.
06:56 am: Haryana minister Anil Vij said only those parties "which have blackmoney left with them" will observe November 8, the first anniversary of demonetisation, as "black day".
06:40 am: Delhi Chief Minister Arvind Kejriwal said that GST has caused a lot of trouble to traders and there is a need for extending relief to them. "Demonetisation and GST have adversely affected the interests of traders resulting that most of them have shut down their business, which has further directly affected the employment," Kejriwal said.
06:30 am: "None of the reasons cited by Prime Minister Narendra Modi has come out to be true even a year after demonetisation. We cannot see even a single good thing which has come out due to this exercise," NCP leader Dhananjay Munde said.