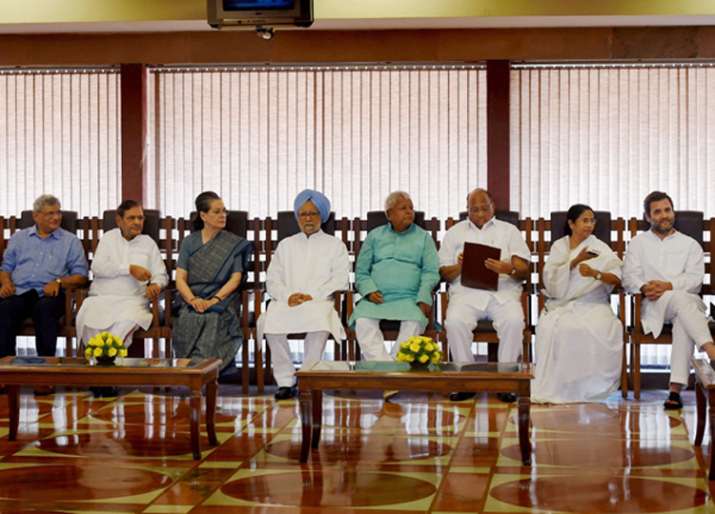 In what is being billed as Opposition show of strength, top leaders including Congress Vice President Rahul Gandhi and Bihar Chief Minister Nitish Kumar are expected to converge at 94th birthday celebrations of DMK chief M Karunanidhi in Chennai today. The leaders will also share dais at an event to mark 60 years of Karunanidhi as a legislator. 
RJD supremo Lalu Prasad Yadav, who has been one of the most vocal proponents of Opposition unity, will miss the event, owing to his ill health. 
Gathering of prominent leaders of non-BJP parties in Chennai is seen a major event in the direction of forging unity among opposition ahead of July Presidential election and 2019 general elections. 
Apart from Lok Sabha MP Derek B'Brien, who will represent TMC, CPI (M) General Secretary Sitaram Yechury, CPI National Secretary D Raja, National Conference leader Farooq Abdullah and NCP supremo Sharad Pawar are also scheduled to attend the event. 
Ironically, Karunanidhi's participation is still uncertain as doctors have not given him the nod to attend the function, scheduled to coincide with his 94th birthday. 
The nonagenarian leader is recuperating following a tracheostomy procedure in December last to improve breathing. 
The event comes amidst parleys by non-NDA parties involving TMC supremo and West Bengal Chief Minister Mamata Banerjee to field a common candidate for the Presidential polls due in July. 
However, DMK Working President and Karunanidhi's son MK Stalin has denied his father's birthday bash will serve as a platform for the non-NDA parties to discuss the Presidential polls. He had earlier said Congress President Sonia Gandhi had already held discussions with him on the possibility of putting up a joint Opposition candidate. 
Incumbent Pranab Mukherjee's term ends in July this year. 
A five-time Chief Minister, Karunanidhi made his debut as a Member of Legislative Assembly (MLA) from Kulithalai in then undivided Tiruchirappally in 1957 and has not lost a single election in his career. 
Lalu to miss Karunanidhi's birthday celebrations 
RJD president Lalu Prasad will not attend the birthday celebrations of Karunanidhi in Chennai today. 
"Lalu jee is suffering from fever and hence will not be able to go to Chennai tomorrow," his close aide and MLA Bhola Yadav told PTI yesterday. 
Party spokesperson Ashok Sinha also confirmed Yadav's inability to go to Chennai tomorrow. Both Prasad and Bihar Chief Minister Nitish Kumar were invited to the 94th birthday celebrations of the DMK patriarch by his daughter and party MP Kanimozhi. 
Both leaders had accepted the invitation and Nitish Kumar even had talks with DMK working president Stalin in the presence of Kanimozhi. 
Lalu Prasad's cancellation of travel plan to Chennai is being read in political circles as his unwillingness to be seen with Kumar, who had skipped a luncheon meeting hosted by Congress president Sonia Gandhi in New Delhi on May 26 in which he himself was present. Both RJD and JD(U) - the Grand Alliance partners - have, however, dismissed it. 
"Lalu jee is not going to Chennai purely on health grounds on advise of doctors. There is nothing political in it," Sinha said. 
JD(U) chief spokesperson Sanjay Singh too said, "Lalu jee is not going to Chennai on medical grounds and it's wrong to read any politics in this," Singh said. 
(With PTI inputs)