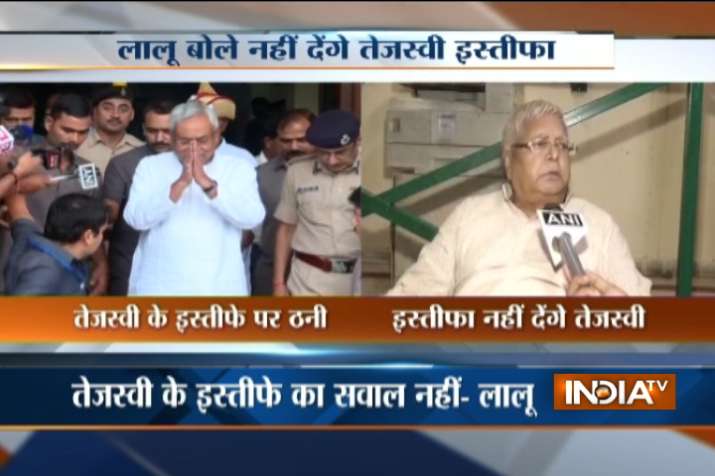 Rashtriya Janata Dal (RJD) supremo Lalu Prasad Yadav on Friday made it clear that there was no question of his son and Bihar's Deputy Chief Minister resigning from the council of ministers.
Lalu Prasad Yadav pointed out that the RJD legislature party has expressed its opinion against Tejashwi's resignation. 
He also added that an FIR is not sufficient reason for the resignation of any person.
"BJP wants that the Grand Alliance government to fall somwehow... But we will not allow that to happen," Lalu Prasad said.
He also refuted media reports that Congress president Sonia Gandhi spoke to him in order to save the alliance government in the state.
"A baseless news is running in television news channels that Sonia Gandhi has spoken to me," Lalu Prasad Yadav said.
 He, however, said that he would not know if Sonia Gandhi had spoken to Nitish Kumar in this regard.
Sonia Gandhi had reportedly spoken with Nitish and Lalu and appealed to both not to do anything to break the ruling Grand Alliance of JD(U), RJD and Congress. She is also reported to have advised   Lalu Yadav  to ask his son to quit as Deputy CM of Bihar. 
There were reports of Congress leaders claiming that Lau Yadav had agreed to persuade his son to resign in order to save the grand-alliance government in Bihar.The Congress leaders also claimed that Lalu had said that he will talk to his family members in this regard.
However, the fact that Lalu Prasad is now denying any possibility of Tejashwi's resignation means that Tejashwi may have refused to resign from his post forcing Lalu to come up with the denial. 
It's obvious that Lalu Prasad wants to save the grand alliance government  in Bihar without forcing Tejashwi Yadav to resign from his post. The Congress, on the other hand, also wants to save the Nitish Kumar government so that the Bihar CM could be prevented from switching sides and moving over to the BJP camp.
However, the rift in Bihar's ruling grand alliance over the resignation of Tejashwi Yadav appears to have widened with the JD(U) asking the RJD to come with  explanation on corruption charges levelled against Tejashwi Yadav and his family. 
Lalu Yadav, on his part, has alleged that the BJP-led government at the Centre is using the Income Tax Department, Enforce Directorate and the Central Bureau of Investigation to destabilise the Grand Alliance government in Bihar.