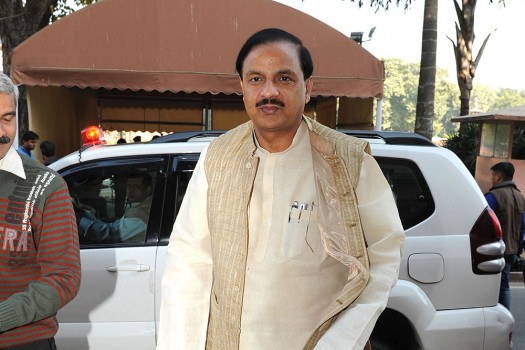 Months ahead of Assembly elections in Uttar Pradesh, the BJP-led Centre's plan to set up a Ramayana museum in Ayodhya is gearing pace with Union Tourism Minister Mahesh Sharma planning to visit the city to inspect the proposed site tomorrow. 
The decision to set up the museum was announced in June, a move seen as an attempt to woo pro-Hindutva elements ahead of polls in UP, scheduled early next year.
The minister, who also holds the portfolio of Culture Ministry, played down the political agenda behind the visit, saying it is part of the tourism development plans of the Modi-government and should not be linked with elections in the politically crucial state, which goes to polls early next year.
"My visit to Ayodhya has nothing to do with UP Assembly elections. I am visiting there as a Tourism Minister. It should not be linked to politics but is part of government's effort to improve tourism in Ayodhya and all over the country. The visit is part of developmental agenda," he said.
Sharma said the museum will be a part of the Ramayana Circuit for which the Centre has sanctioned Rs 225 crore, with Rs 151 crore exclusively for Ayodhya, which is the hub of the circuit.
"Ram is in the heart of millions of people. As the Tourism Minister, I have to see how Ayodhya can be developed; how Ramayana circuit can be developed from a tourism point of view," the minister said.
He said the government has identified three circuits — Ramayana Circuit, Krishna Circuit and Buddhist Circuit — to boost religious tourism.
The state government has identified a 25-acre plot for the museum which is some 15 km away from the disputed Ram Janmabhoomi-Babri Masjid complex, a source said.
Sharma will also hold a meeting with Ramayana Circuit Advisory Board during the visit. The meeting would discuss routes for connecting Ramayana-related sites in Nepal and Sri Lanka with the proposed museum.
The Union minister would also deliberate on plans for an International Ramayana Conclave, which would be held either in Ayodhya or Chitrakoot district. The conference is likely to be attended by delegates from about 12 countries, sources said.
Sharma is likely to hold meetings with religious leaders on building the museum which would portray the epic journey of Lord Rama.
Tourism being a state subject, Sharma also sought help from UP government for development of the circuits to give a boost to tourism which, he said, has great potential to earn foreign exchange, employment generation and women empowerment.
Meanwhile, opposition parties have slammed the BJP for raking up the 'temple issue' just before the assembly elections. 
BSP supremo Mayawati, a major contender to power in the key battleground state, issued a statement criticising the move.
"Developing tourism in Ayodhya is good but, how come the Narendra Modi government thought of developing the Ramayana Sangrahalay (museum) and the state government of Ramleela theme park just before the Assembly polls," she said in a release in Lucknow.
"Linking religion with politics and electoral gains by these governments is condemnable...had they really been so concerned about these issues, they would have thought about them long ago," the former Uttar Pradesh chief minister said.
Congress leader and former Union minister R P N Singh accused the Modi government and BJP of invoking Ram months ahead of the assembly polls due early next year for deriving political mileage out of it.
"We shouldn't be surprised. Every five years we see the same drama unfolding. Whenever polls are in the state, they talk of Ram, Ram temple, Ram sangrahalaya. They repeatedly raise these issues," he said.
"Prime Minister Narendra Modi speaks of development but what about action....When there is election, he goes to Lucknow to participate in Dussehra festivities and chants 'Jai Shri Ram'. Did he say Jai Shri Ram during Dussehra events last year wherever he went?" he said.
The proposed museum revived the demand for construction of Ram temple, with BJP hardliners like Union Minister Uma Bharti and Vinay Katiyar pitching for it.
Katiyar went on to demand tabling of a legislation in the Lok Sabha where the BJP-led NDA has a "massive majority".
Though the BJP has been insisting that the Ram temple will not be an electoral plank in the UP elections to be held early next year, the proposed Ramayana museum and related activities are being seen as an attempt to keep pro-Hindutva elements in good humour.
On Dusshera, Prime Minister Narendra Modi had, in a departure from tradition, participated in the festivities in Lucknow where he started and concluded his speech with chants of "Jai Shri Ram, Jai Jai Shri Ram".