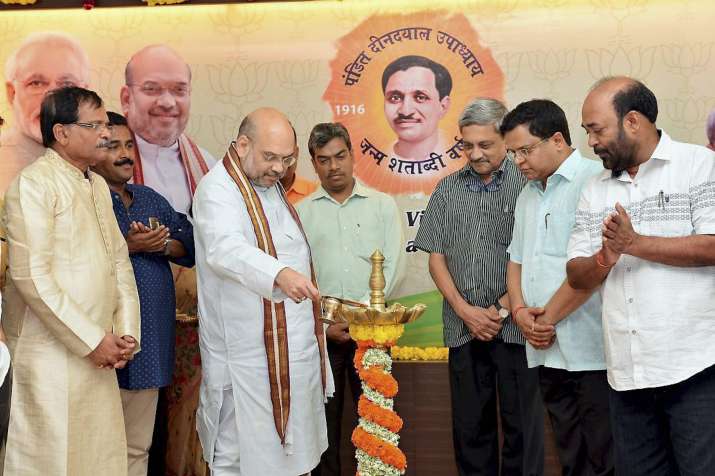 Bharatiya Janata Party (BJP) was not granted permission to hold a rally at Goa's Dabolim Airport premises on Saturday in honour of the party's national president Amit Shah, airport Director B.C. Negi said today. The clarification from the airport official came as he was gheraoed by a Congress delegation led by All India Congress Committee (AICC) Secretary Girish Chodankar.
"No permissions were given... I will inquire into it," Negi said. 
Chodankar demanded an explanaton on how the BJP was allowed to host a party meeting on Saturday at the Dabolim International Airport premises, located 40 km from Panaji. The meeting was attended by around 2,500 BJP workers.
A complaint was filed against Shah on Sunday by a local lawyer, alleging that the meeting was held without any permissions. In a complaint addressed to Secretary of Civil Aviation and Goa Chief Secretary and Director General of Police, lawyer-activist Aires Rodrigues has alleged that holding a party meeting was a violation of Section 141 (Unlawful assembly) of the Indian Penal Code and put passengers at the airport to inconvenience.
Rodrigues sought that an FIR be registered against the organisers of the event besides Shah and all other dignitaries present at the meeting yesterday. "They cannot now claim to be ignorant of the legal provisions," he said in the complaint.
Chodankar, who led the protest at the Airport Director's office, said that holding a meeting at a sensitive installation like an airport showed clear abuse of power by the BJP.
"Now that the airport director has said that no permissions were given for the party meeting at the airport, action should be taken against the BJP and Shah for the audacity with which they held the function at a vital installation."
"It is a clear case of abuse of power," Chodankar told reporters after the protest.
The BJP has, however, denied the charge and said the event was held outside the airport premises and all required permissions to host it were taken. 
"As far as my knowledge goes, we have taken all the permissions required to host the function," state panchayat minister and Dabolim MLA Mauvin Godinho told PTI yesterday.