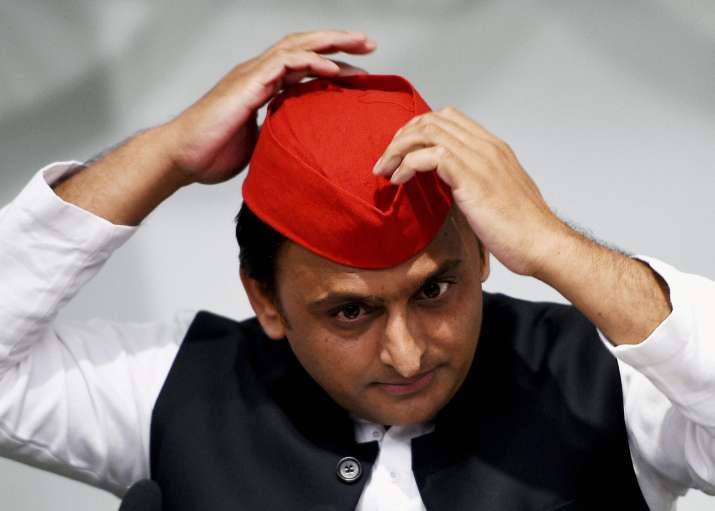 Samajwadi Party chief Akhilesh Yadav on Wednesday stirred a controversy with his remarks that while security personnel from states such as Bihar, Uttar Pradesh, Jharkhand, Madhya Pradesh and south India were losing lives there were "no martyrs from Gujarat".
The statement invited sharp reaction from the Bhartiya Janata Party (BJP) which claimed that the remarks stemmed from "frustration of defeat". 
"UP, Madhya Pradesh, Dakshin Bharat har jagah se shaheed huye hain, Gujarat ka koi jawan shaheed hua ho toh batao (Jawans from UP, Madhya Pradesh, South India and other parts of the country have sacrificed their lives but tell me whether anyone has been martyred from Gujarat)," he said. 
Without naming BJP, he said, "They play politics in the name of martyrs, vande matram and nationalism. What is their definition (of nationalism)? They do not even consider us Hindus." 
He was apparently targeting Prime Minister Narendra Modi, a Gujarat politician whose rise in national politics has been blamed by his detrators for simultaneous growth of aggressive nationalism. Gujarat is the home state of Modi and BJP President Amit Shah. 
The former Uttar Pradesh Chief Minister also raised questions over the central government's response to the mutilation of the bodies of two soldiers on the Line of Control (LoC) by the Pakistan Army earlier this month. 
"The Pakistani soldiers beheaded Indian soldiers, they mutilated their bodies so badly. No one is debating or discussing that. You didn't tell which body parts were mutilated, you are not debating on that," he said. 
Reacting sharply to Yadav's statement, Deputy Chief Minister Keshav Prasad Maurya said, "His talk and politics have been discarded by the people of the state. That is the reason why he is making such statements in frustration." 
Denouncing the comments of Yadav, a former chief minister of Uttar Pradesh, as "unwarranted", Maurya said those laying down their lives for the country were Indians first.
Gujarat Chief Minister Vijay Rupani also denounced Akhilesh's statement and said, "I think Akhilesh Ji's statement is an effect of frustration after loss in UP polls, its a cheap political view."
In February, Akhilesh had stirred a controversy just before the Uttar Pradesh assembly polls, when he took a pot shot at Bollywood superstar Amitabh Bachhan and advised him to stop promoting the "donkeys of Gujarat".