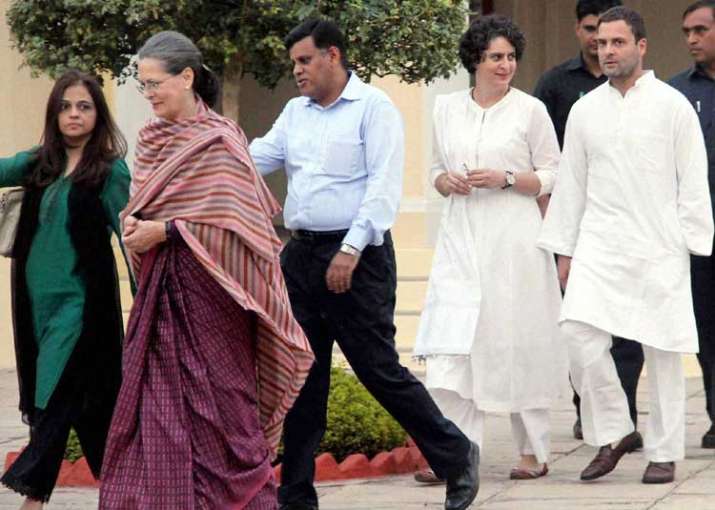 Congress President Sonia Gandhi on Monday said that there was no comparison between Prime Minister Narendra Modi and late Indira Gandhi.  
"It does not trouble me because I do not believe in it. I have my own clear views about it. There is no comparison. Absolutely not," she said when asked whether she was troubled by the fact that Modi was being compared with the late Prime Minister as a strong personality.
She also rejected suggestions that the party did not have leaders to take him on.
The top leader of Congress said that her party was taking on the Modi government.
"Every era in politics or history has its own problems, its own leaders and its own opposition. I think the Congress party is taking on the present dispensation," Sonia Gandhi told India Today TV.
She was replying to a question whether her party needed to be competitive unlike the 60s and 70s when it was dominant and that it did not have a leader to take on Modi.
To another question that her party did not have a tough and competitive leader like Modi, she said, "I do not agree with that."
She recalled that Indira Gandhi was ridiculed, insulted and made fun of from within even more than outside when she entered politics, became a Congress president and later Prime Minister.
There was nothing that she did was right. She was able to "overcome" that, Gandhi said.
To a question whether her children can take on Modi, Sonia  said "absolutely, absolutely". 
"So much is expected of us because we have a certain surname, we belong to a certain family. We sort of gather some sort of inner strength to make it possible for us to face such things," she said. 
She exuded confidence that her party will come up from its current position of having merely 45 seats in the Lok Sabha. 
It is "absolutely possible" for the Congress to come back to power, she said. 
"We will keep fighting. Indira Gandhi was written off, she fought back, we will fight too," Sonia said. 
Asked whether her son Rahul Gandhi or daughter Priyanka Gandhi will carry forward the family's political legacy, the Congress chief said she is not the one to decide or reply. 
She also rejected the charge that Indira Gandhi and she herself "promoted dynasty". 
"Just like in the family of doctors, professors, businessmen, one or the other person within the family will choose the same path as the father... In politics, you are elected and defeated democratically," she said. 
She said Indira Gandhi was not "terribly keen" on joining politics but she did not for the country and its people. 
Asked about the Emergency, she said if Indira Gandhi had not felt extremely uncomfortable with it at some stage, she would not have called for election. 
"I cannot say how she would see Emergency today, but if she had not felt extremely uncomfortable she would not have called for elections. There were instances when Rajivji was a pilot and on occasions he would meet people who would say this is happening and he would tell his mother. I could see that she heard him and would see her respond," said Sonia.
Sonia said she joined politics to uphold the values of her mother-in-law and that of the Congress.
"I thought on my side it was a bit of coward to not join. At that time there was nothing else on mind but to uphold the ideals of not just my mother-in-law, my husband and the party," she said.