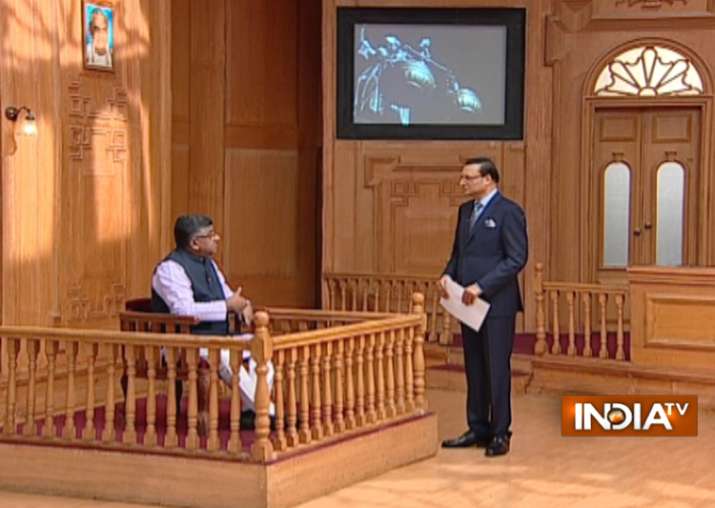 Senior BJP leader and Union Law and IT Minister Ravi Shankar Prasad today lashed out at RJD supremo Lalu Prasad and his kin on money laundering charges, and said that it was up to the Bihar Chief Minister Nitish Kumar to decide first whether he wants his deputy chief minister Tejashwi Yadav to quit or not.  
Replying to queries from Rajat Sharma in the show Aap Ki Adalat, to be telecast tonight at 10 pm on India TV, Prasad scotched speculations about any political "khichdi" being cooked between Janata Dal (United) and BJP by saying: "I can't say any 'khichdi' is being cooked right now, but it was Nitish who left us. We did not leave him. The divorce was from his side, not from our side. 
"The core issue first and foremost is how long will he carry on his government with a corrupt Deputy Chief Minister? He took Jitan Ram Majhi's resignation on the issue of corruption within two hours. He also dismissed three other ministers on similar issues."
When Rajat Sharma pointed out that Nitish Kumar has given four days' deadline to Tejashwi to quit, the Law Minister replied: "Why four days? We will wait for 40 days, but Lalu Prasad has said his son will not resign. Indian politics today is moving towards morality, and this politics of 'loot' must end. We won't allow this in a state which had honest leaders like Jayaprakash Narayan, Dr. Rajendra Prasad and Karpoor Thakur."
The Law Minister thanked Nitish Kumar for supporting BJP on issues like Presidential election, GST and surgical strike, by saying: "Unka abhinandan hai (we honour him). He did this in the national interest."
Asked whether secret moves are afoot towards rapprochment, He replied: "Agar dil milenge toh chupke-chupke nahin (If the hearts meet, it will not be a secret affair). After all, Nitish's party was our ally for 17 years. Atalji (former PM) used to respect him a lot. It was because of BJP that he was chief minister of Bihar for nine years. He did good work in Bihar. So joining hands with him could be in the future, but for the present, Nitish must first decide whether to keep Tejashwi in his cabinet or not."
On Lalu Prasad's charge that he and his family was being targeted, because he was consolidating opposition leaders like Mayawati, Mulayam Singh, Sonia Gandhi, Mamata and Kanimozhi against Prime Minister Narendra Modi at the Centre, Prasad replied: "This is not a mahagathbandhan (grand alliance) of neeti (policy) and neeyat (belief), this is a mahagathbandhan of darr (fear). They fear Prime Minister Narendra Modi. These leaders know they cannot take on Modi alone."
The Law Minister, citing charges made by CBI and other agencies, alleged how two railway hotels in Ranchi and Puri were handed over to a private hotel owner, and in return 3.5 acres of prime land was taken in Patna to build a Rs 700 crore shopping mall. He also demanded clarifications from Lalu's son Tejashwi Yadav, daughter Misa Bharti and son-in-law Shailesh Kumar, about how they acquired land in Delhi's Bijwasan, and a property in Sainik Farms.
"Laluji was made a minister, but he was not given the licence to loot", said the Law Minister. "And since they have looted, the secrets are now tumbling out. This is Modi's government. There has not been a single charge of corruption against our government, but that does not mean that the government will remain silent on loot."
Prasad alleged that the Railway licence to hand over the hotels in Puri and Ranchi to a private hotel owner was signed the very day land in Patna was transferred in the name of the wife of Lalu's ministerial colleague, and the same land was transferred to a company 4-5 years later, in which Tejashwi and Lalu's wife Rabri Devi are directors. 
Prasad questioned how a piece of land worth Rs 80 lakhs belonging to a railway employee living below the poverty line was "gifted" to Lalu's kin in lieu of a job.
On Tejashwi Yadav's recent remark that he was an adolescent and hardly grew moustache when these land deals took place, the Law Minister said: "My advice to the Bihar Deputy Chief Minister as Union Law Minister is this - Law in India does not differentiate on the basis of age. The law only says that one who is not an adult will not be sent to jail, but shall go to a remand home. A convict is a convict. He (Tejashwi) was major at that time. For how long will we tolerate this type of loot in Indian democracy?"
Prasad saidL "If anybody indulges in corruption, we in the government will not suppress nor stop any investigation. Law will take its own course."
The Law Minister rejected Lalu's charge of "political vendetta". He said: "For 12-13 years, a calculated campaign was carried out against Narendra Modi. At least nine cases were taken up in the Supreme Court, that included encounter of Ishrat Jahan and others. I am proud to say that despite all these harassments, Modji  showed courage and he had reached the position where he is today. But Modiji never harassed anybody. I have been a minister in his cabinet. Modiji never asked for harassing anybody in any cabinet meeting."
In an interesting remark on the controversial Ayodhya issue, the Law Minister was hopeful that the Supreme Court would give its verdict in favour of building a Ram Temple on the disputed site. 
"I was a lawyer in this case before the Allahabad High Court. The High Court made two important observations - it recognized the spot where Ram Lala was supposed to have born as the birthplace, while on the other hand, the Muslim side failed to prove that the Babri mosque was built on a site where a temple already existed. 
"As a lawyer, not as a Law Minister, based on all evidences that are available, I can say, we will win the case in the Supreme Court also, and that too, in an impressive manner. We expect the Supreme Court to complete the hearing soon. When the Allahabad High Court verdict came out, the Muslim organisations could have accepted the fact that the site was Ram Lala's birthplace, and that could have created a cordial atmosphere. But their leaders did not agree. So, we won the case in Allahabad High Court, and will also win in the Supreme Court. I fully believe that a grand Ram Temple will be built  in Ayodhya."
Law Minister Ravi Shankar Prasad in Rajat Sharma's show Aap Ki Adalat will be telecast on India TV tonight at 10 pm, and will be repeated tomorrow, Sunday at 10 am and 10 pm.