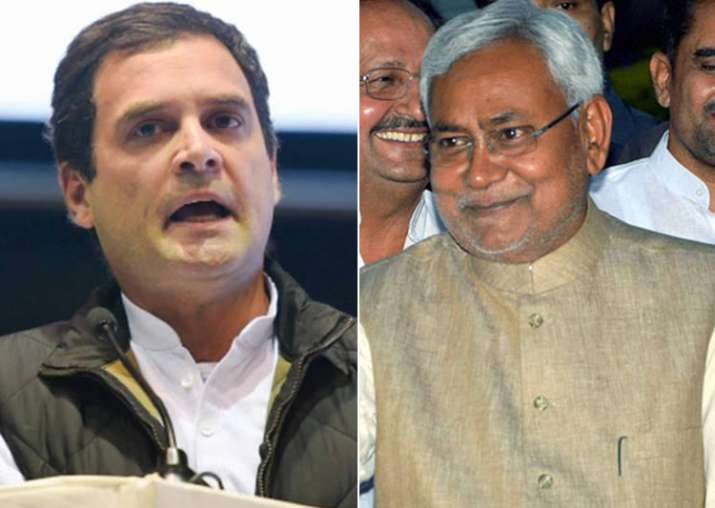 Amid speculation over a rift in the 'Grand Alliance' in Bihar, Chief Minister Nitish Kumar today met Congress vice president Rahul Gandhi and is learnt to have discussed the current political situation. Party sources said Kumar drove to Gandhi's Tughlaq Lane residence here and discussed about graft charges against Deputy Chief Minister and RJD chief Lalu Prasdad's son Tejashwi Yadav. 
Kumar is in the national capital to attend a dinner hosted by Prime Minister Narendra Modi in honour of outgoing President Pranab Mukherjee. His meeting with Rahul Gandhi comes at a time when there are differences over the continuation of Tejashwi in the state cabinet, thus posing a threat to the 'Grand Alliance' between the JD(U), RJD and Congress in Bihar. 
While the RJD supremo has rejected demands of resignation of his son, Kumar is learnt to have reservations about Tejashwi's continuance as it dents his anti-corruption image. The JD(U), Congress and Rashtriya Janata Dal are partners of Bihar's ruling Grand Alliance, which is in the throes of a political crisis due to the CBI raids on RJD leader Tejashwi Yadav's premises over an alleged benami land deal. The JD(U), in its efforts to portray a corruption-free image, has demanded that Tejashwi Yadav quit, which has been rejected by the RJD and the Congress. 
Kumar-led JD(U) had also crossed swords with the opposition over its support to NDA's presidential nominee Ram Nath Kovind. The opposition had pitched for Meira Kumar as its joint candidate for the presidential polls. 
Talks between Nitish and Tejashwi last week do not seem to have smoothed the political ripples. Kumar's meeting with Rahul comes days after Congress president Sonia Gandhi spoke to the Bihar Chief Minister and to RJD chief Lalu Prasad in an effort to prevent a collapse of the ruling coalition.
Nitish is wasting time, says Sushil Modi
Bihar BJP leader Sushil Kumar Modi said that CM Kumar 'is wasting his time meeting Rahul Gandhi reportedly to urge him to ask Tejaswi to resign' in the wake of a CBI FIR against him on corruption charge. "Nitish Kumar is wasting time meeting Rahul Gandhi for reportedly asking Tejaswi Yadav to tender resignation," he said.
"Rahul Gandhi had failed to make his own party Chief Minister Virbhadra Singh in Himachal Pradesh resign after he was chargesheeted by CBI. How could he ask Tejaswi Yadav (of RJD) to resign?" Modi said.
He further said that instead of coming to the people with facts to explain the situation, RJD is pasting posters against JD(U) spokesmen to create pressure on the party not to press for Tejaswi's resignation. 
Posters came out today in some places of Patna with photographs of JD(U) spokesmen Sanjay Singh, Ajay Alok, Neeraj Kumar and senior party leader Shyam Rajak alleging them of acting in collusion with Sushil to attack RJD. On whose behalf those posters have been published is not known as there is no name.
Modi said that JD(U) has not even once said that Tejaswi has been implicated in the case for political vendetta or CBI did it to stop RJD's August 27 rally. "This proves that JD(U) is accepting that charges against Tejaswi carry weight and hence its spokesmen are seeking point-by-point clarification," he said.
With PTI Inputs