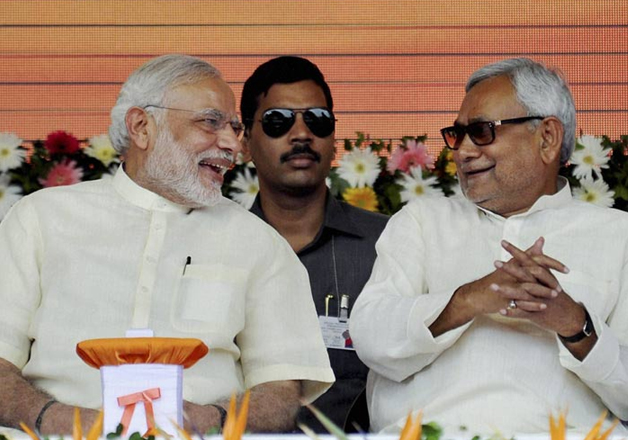 A week after Prime Minister lauded the Bihar Chief Minister's efforts in implementing prohibition in the state, Nitish Kumar has now urged Narendra Modi to order a liquor ban in all states where the Bharatiya Janata Party is in power. 
Nitish said that the ruling party's step would create a "favourable environment" for ban on sale and consumption of alcohol in the country, reported PTI.
"I thank Prime Minister for praising bringing prohibition in Bihar. I also praise him (PM) for effectively implementing liquor ban in his home state Gujarat during 12 years of his chief ministership," he said addressing a 'Chetna Sabha' here.
"I urge the PM to implement prohibition in the entire country and to create a favourable environment for it, he should get liquor ban promulgated in the BJP-ruled states," Kumar said.
During th 350th birth anniversary celebrations of Guru Gobind Singh in Bihar, PM Modi had lauded Kumar for effectively implementing prohibition in the state and had appealed to all political parties and social groups to join the campaign to ensure its success.
Kumar, whose government declared Bihar a dry state in April last year, has taken it on a mission mode and is moving across Bihar through his 'Nishchay Yatra' to get the feedback from people on banning trade and consumption of alcohol, both domestic and Indian-Made Foreign Liquor.
He also spoke about the praise by Tibetan spiritual leader the Dalai Lama for prohibition.
The Dalai Lama, who is in Bodh Gaya in connection with Kalachakra Puja being attended by devotees of 80 countries, has also praised Kumar for trying to ensure complete ban on liquor and urged followers not to touch it.
Kumar highlighted the positive results of prohibition from April 2016, when it was imposed, to November 2016 while claiming that there had been a substantial drop in heinous crimes like murder, dacoity, kidnapping and loot besides road accidents.
He said there was increase in the sales of milk, sweets, readymade clothes and sewing machines among other items from money saved from liquor consumption.
Kumar appealed to people to participate in the mammoth human chain on January 21 to express their commitment to liquor ban and welcomed the support extended to it by BJP.
"All protests against prohibition will vanish when everybody unites against it," he said.
PTI inputs