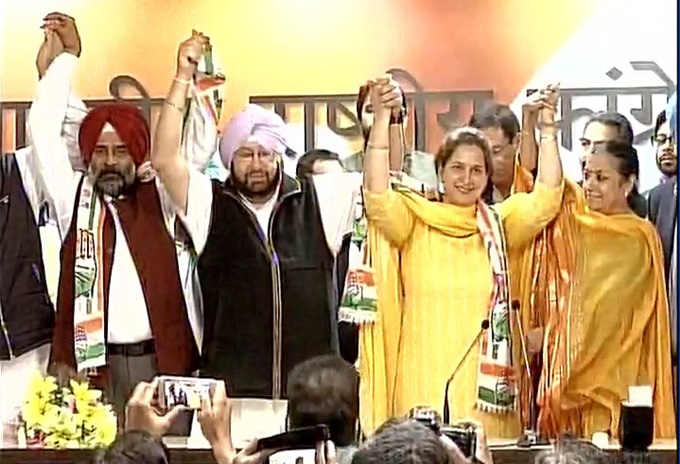 In an expected turn of events ahead of Punjab Assembly polls, cricketer-turned-politician Navjot Singh Sidhu's wife Navjot Kaur Sidhu and former Olympian Pargat Singh on Monday joined the Congress party.
Punjab Congress president Captain Amarinder Singh along with senior Congress leaders, including party spokesperson Randeep Surjewala organised a press conference in the national capital to welcome Navjot Kaur Sidhu and Pargat Singh into the party.
When media persons asked Navjot Kaur Sidhu if her husband will join the Congress party, she said: "Hum do shareer ek aatma hai, fir ek durse ke bina kab tak reh paenge? (We are two bodies, one soul. How can we live separately)"
Earlier in September, Navjot Singh Sidhu floated a new party to fight elections in Punjab.
Sidhu joined hands with three top voices against the state's ruling Shiromani Akali Dal-BJP alliance -- former India hockey captain and suspended Akali MLA Pargat Singh and Ludhiana-based powerful independent state lawmakers and brothers Simarjeet and Balwinder Singh Bains.
Sidhu had walked out of the BJP in July early this year.
Elections to the Punjab assembly are likely to be held early next year.