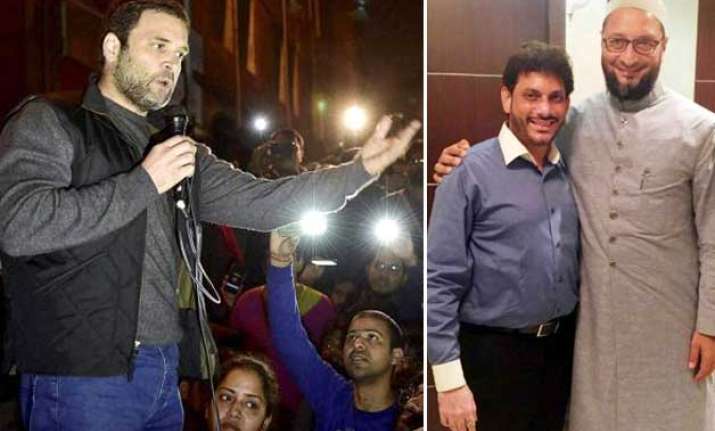 New Delhi: The Congress party which takes pride in playing the pivotal role in emancipating India from the foreign yoke would never have imagined that a day will come when the grand old party will face challenge from a rival political formation to prove its nationalistic credentials.
Since the political narrative of India, of late, is revolving around 'nationalism' debate, the actions and stands taken by the Congress and its prominent leaders indicate that the party is completely confused over how it should respond to the new challenge.
The confusion was in full display when the Congress MLAs in Maharashtra Assembly joined hands with BJP, Shiv Sena and NCP legislators to pass a unanimous resolution to suspend two MLAs of AIMIM who refused to chant 'Bharat Mata Ki Jai' in the lower house.
Congress party's stand in Maharashtra Assembly surprised political observers as well. They asked Congress party to explain how can they force a legislator to shout a particular slogan especially when party vice-president Rahul Gandhi had himself taken an entirely different stand in JNU sedition case?
 Rahul, during his visit to the varsity in the aftermath of Kanhaiya controversy had asserted that the stick of 'nationalism' can't be wielded to browbeat 'fundamental rights' and 'freedom of speech and expression' guaranteed under Indian constitution.  
In New Delhi, however,  senior Congress leaders are busy making contradictory statements. On one hand, Digvijay Singh says he fails to understand why a person wouldn't chant 'Bharat Mata KI Jai', former home minister P Chidambaram, on the other hand, has categorically stated that suspending AIMIM legislators on this matter was wrong and that nobody can be forced to shout this slogan.  
Former union minister Shashi Tharoor has gone one step ahead by equating JNUSU President Kanhaiya Kumar with the legendary freedom fighter Bhagat Singh. A rattled Congress party lost no time in distancing itself from Tharoor's remark. The party was further embarrassed over Tharror's remark after Bhagat Singh's relatives took strong objection to  Tharoor's remarks.
All such statements clearly indicate the state of utter chaos and confusion prevailing in the party over this sensitive issue.
Actually, the spectacular success of Narendra Modi in 2014 general elections and the decimation of Congress forced the Sonia Gandhi-led party to re-evaluate its stand on 'nationalism'. The party believes it's the natural claimant for monopolising the 'nationalism' plank given its pioneering role in India's independence movement.
However, the grand old party finds it obnoxious to play second fiddle to BJP on this issue. The Congress also believes that any open support for BJP's brand of 'nationalism' would alienate the party from its minority especially Muslim vote-bank that it has so carefully cultivated since independence.  
The Congress is not facing this dilemma for the first thing. The party has not forgotten how it was trapped into Ayodhya controversy in the aftermath of Rajiv Gandhi-led Congress government overturning Supreme Court's judgment in Shahbano case under duress from orthodox Muslim clerics.
After overturning SC judgment in Shahbano case, the Congress party was accused of practicing 'minority communalism' and in order to offset that charge , Rajiv Gandhi tried to placate Hindus by getting locks of Ram Temple opened at the disputed site in Ayodhya.  
Little did Rajiv Gandhi know that his actions arising out of complete confusion would prove to be a turning point in India's political history.  The BJP virtually snatched the Ram Temple issue from the hands of Congress and the rest, as we say, is history now.
The BJP, on the other hand,  has always flaunted 'nationalism' as its core ideology and the emphasis has become louder after Narendra Modi-led government took the reins of power at the centre in May 2014. Even Modi's political opponents concede that a large chunk of Indian electorate voted for him because they were impressed by his hard-line nationalistic appeal.
That's why the Congress party finds itself in a dilemma. The Congress does not want to lose out to BJP on the 'nationalism' debate but it fears an adverse reaction from its Minority vote-bank and that explains the prevailing state of confusion in the party.
It's time the top leadership of the Congress takes a principled stand on this sensitive topic and brings to an end the prevailing chaos in the party lest the history repeats itself once again.