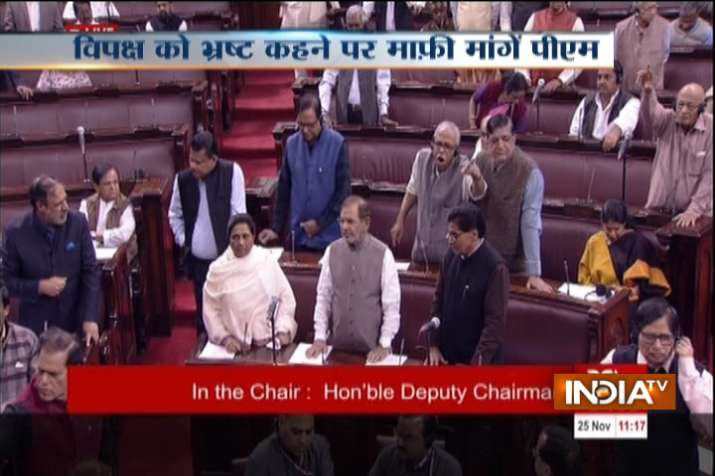 Opposition parties in the Rajya Sabha blasted Prime Minister Narendra Modi today for saying that those criticising 'demonetisation' are angry because they did not get the time to prepare themselves to turn their black money into white.
"Pradhan Mantri maafi maango (PM must apologise)," angry opposition members shouted in the Rajya Sabha.
Ghulam Nabi Azad, Leader of Opposition in Rajya Sabha, asked Prime Minister to apologise for saying that the opposition parties are in support of black money, during a book launch event today.
Azad also made it clear that the opposition would not discuss the 'note ban' issue unless PM Modi attends the session.
"How can PM allege that Opposition parties are in favour of black money; this is wrong, he must apologise," he said.
JD(U) and Samajwadi Party MPs also attacked the Prime minister for accusing the entire opposition of hiding black money.
"This is a grave allegation," former JDU chief Sharad Yadav said in the Upper House.
BSP supremo Mayawati also termed the PM's statement an attack on the entire opposition.
"Prime Minister said that if he had told the Opposition beforehand about the move to demonetise notes, we would not have supported the move, indirectly he meant that we support black money, this is an attack on Opposition," she said.
Earlier in the day, Prime Minister  Narendra Modi attacked the critics of 'demonetisation' while attending a book release function in Parliament House Annexe on the occasion of Constitution Day.   
"Those who are criticising the demonetisation don't have problem with the government's preparedness, they have a problem because they didn't get time to prepare for it (to turn their black money into white)," he said.