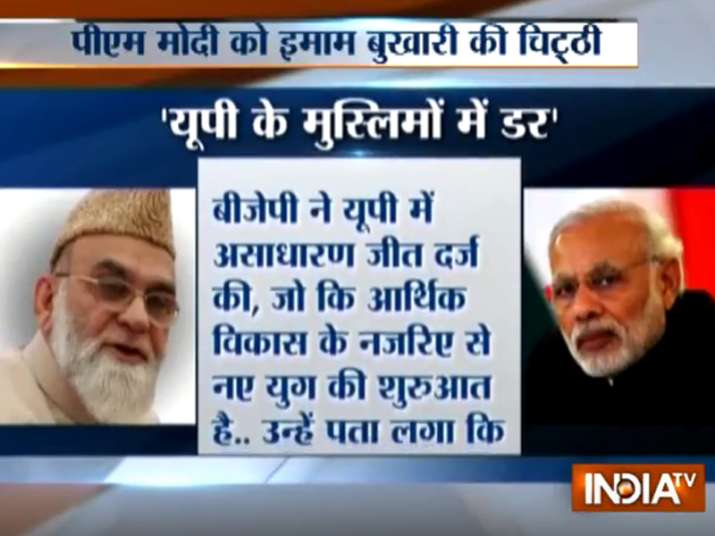 The Shahi Imam of Delhi's Jama Masjid, Syed Ahmed Bukhari, has said that there is a sense of fear that has gripped Muslims in Uttar Pradesh after the new government, headed by Yogi Adityanath, was sworn-in earlier this month. 
In a letter to Prime Minister Narendra Modi, Bukhari, however, said that he was hopeful of the BJP government taking the matter seriously and addressing the issue sincerely with effective measures. 
Bukhari noted that the BJP has registered a mega win in the most populous state and the mandate should not be misused by the local machineries to instil fear in the mind of people. He said that the government has opportunity to write a new era of economic progress in the state.
Bukhari further mentioned that he was away from the country for the past few days. However, on his return he discovered that the Muslims, who make around 20 per cent of the total population in UP, are dreaded. 
"The BJP has registered an extraordinary victory in UP, which, according to the economic point of view, is a beginning of a new era. I have come to know that Muslims are in a state of fear in UP… no government should make people feel dreaded, instead an environment of self-confidence be built up. At the Centre, the BJP formed government with a clear majority and functioning smoothly with consensus," he wrote.
He also reminded the PM that after elections he had said that 'the governments are made by majority but run through consensus'.
Seeking PM Modi's intervention to create an environment of confidence and trust among the 20 per cent population, he said that the slogan of 'Sab ka saath, sab ka vikas' should reflect in the Adhityanath government's governance style.
"I also hope that the government at the Centre and UP shall, while preserving the common culture and civilization and the communal unity, play an important role in delivering security, education, employment and justice to the millions of Indian people," he wrote.
The Yogi Adityanath government has taken several decisions including shutting down several illegal slaughterhouses and meat shops in last 12 days that have affected the Muslims of the state. 
Several Muslim leaders have alleged that these are attempts to harass the Muslims. However, the government has repeatedly denied the charges saying only illegal slaughterhouses and meat shops are under its lens.