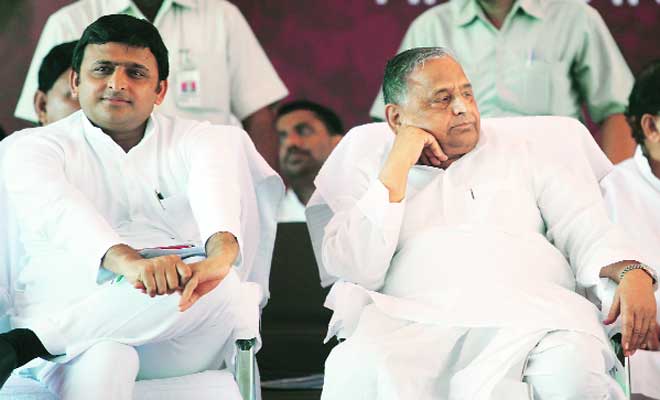 Launching a scathing attack on his brother and Samajwadi Party president Mulayam Singh Yadav, expelled SP leader Ram Gopal  Yadav has said that the party supremo feels jealous of his son's popularity.
" Mulayam Singh has tested Akhilsh's patience many times. He has insulted Akhilesh publically," Ram Gopal Yadav said.
" Mulayam Singh is 'jealous' of Akhilesh's popularity.  Every father wants his son to move forward in life, but not in this case," he added. 
Ram Gopal  Yadav also said that Mulayam's defence of Amar Singh during yesterday's meeting of party functionaries in Lucknow was 'nonsensical'.
Ram Gopal  said that a person who has served as the Defence Minister of the country besides being the UP Chief Minister for three terms should not have made such a statement.
"Mulayam Singh's statement regarding Amar Singh saving him from being sent to jail was 'nonsensical'. Does it mean that the CBI and the Supreme Court were managed? He had been the Defence Minister of this country besides being UP CM for three terms. He should not have said this. In fact, nobody should make this kind of a statement," Ram Gopal  Yadav said. 
The expelled SP leader also alleged that Mulayam Singh was taking 'unconstitutional' decisions. He pointed out that party constitution was not followed as far as his own expulsion from the SP was concerned.
" Mulayam Singh is not aware of how the Samajwadi Party was registered and to understand this is beyond Shivpal Yadav," Ram Gopal  Yadav added.
Ram Gopal  also wondered as to why both Mulayam Singh and Shivpal Yadav were at pains to defend Amar Singh.
" Amar Singh, like a magician, has convinced Mulayam Singh that he helped the SP supremo in this case. The reality is that he did not extend any help," Ram Gopal  Yadav said.
The formal general secretary of Samajwadi Party also added that Samajwadi Party has no existence without Akhilesh Yadav.
" Samajwadi Party is there where Akhilesh is. Minus him, there is no Samajwadi Party. If Akhilesh goes to the people, his massive support among people will sideline his opponents," Ram Gopal  said. 
Ram Gopal  Yadav asserted that he will not resign from the Rajya Sabha despite his expulsion from the party.
" I'll not vacate the Rajya Sabha seat. I am free now. Sometimes even a fake coin (Khota Sikka) throws out a genuine coin (asali sikka)," he added.  
Samajwadi Party's national president Mulayam Singh had expelled Ram Gopal  Yadav from the party for six years on charges of 'conspiring with the BJP' on October 23.
Ram Gopal  Yadav was expelled hours after Shivpal Yadav and four other ministers considered close to him and Mulayam-aide Amar Singh, were sacked from the State cabinet by Chief Minister Akhilesh Yadav.