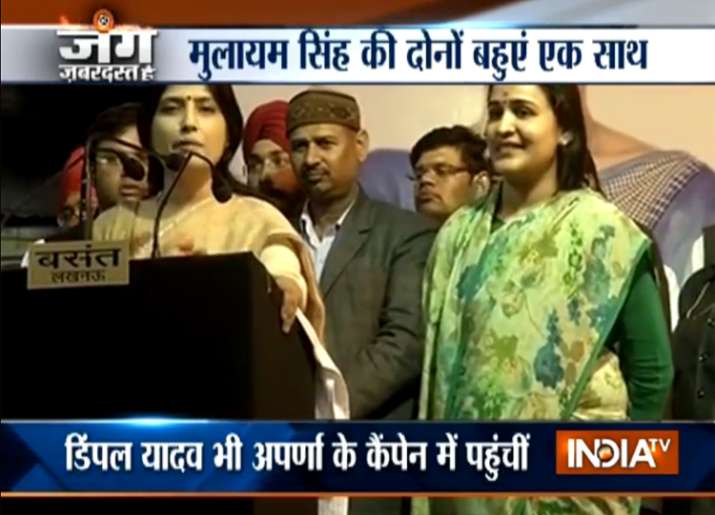 In an apparent message that all is well within the first family of the Samajwadi Party, Dimple Yadav, wife of Chief Minister Akhilesh Yadav, today campaigned for her sister-in-law Aparna Yadav in Lucknow Cantt Assembly seat. 
Dimple, who has campaigned for several woman candidate of the Samajwadi Party in the seven-phased elections, today appeared alongside Aparna, the wife of Akhilesh's younger half-brother Prateek Yadav, and sought votes for her.  
Dimple, who appeared more confident, cited various development works undertaken by the SP government against those of the BJP-led dispensation at the Centre, which she said did nothing but ban notes and force people to stand in queues outside banks and harm interests of small traders and artisans. 
Addressing a receptive crowd which also presented her with a sword, Dimple, attired in fawn colour saree, recalled as to how Taj City Agra has been linked with Lucknow through the only expressway of its kind in the country. 
"This is an expressway of development, prosperity and improving economy and it will be taken to Ballia (on SP returning to power)...will you support us in it?" she said, asking people to raise their hands in support. 
Amidst slogans and cheers, she referred to the Lucknow Metro project which she said was completed with the blessings of Netaji (Mulayam Singh) in two years' time... "Now even the prime minister has said he will come and sit in our metro," she said. 
Dimple also cited Medanta hospital and a cancer institute as other achievements of the Akhilesh Yadav government. 
"There are so many works of this kind which has led to frustration (among political rivals) and made their blood pressure rise," she said and asked as to what has been done by 'buaji' (Mayawati) with the crowd answering back "elephants, elephants" (BSP symbol).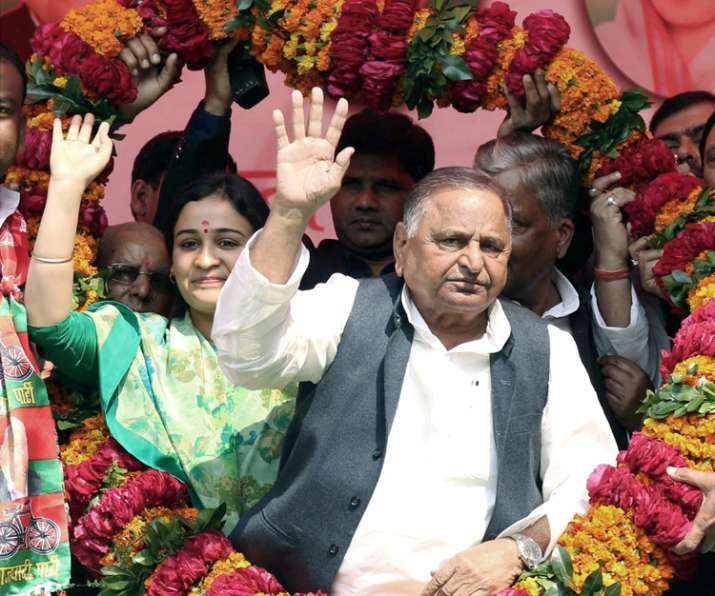 Earlier in the day, SP patriarch Mulayam Singh Yadav also campaigned for Aparna promising to fulfil all promises irrespective of his party coming to power or not. 
"But if the party forms government, more works will be undertaken in a better way," he said, recalling the works done for women welfare, poor and labourers. 
Making an emotional appeal for his 'chhoti bahu', Yadav said these elections are attached to his political respect and honour and he would be grateful to people if they supported his younger daughter-in-law. 
This was Mulayam Singh's third rally in this election. Earlier, he had addressed two rallies for his younger brother Shivpal Singh Yadav in Jaswantnagar Assembly seat. 
He also recalled how he managed the Ayodhya development when he was the CM and initiated strict steps to control the situation in the 1990s. 
"It was for the unity and integrity of the county, I sacrificed my government," he added.
(With PTI inputs)