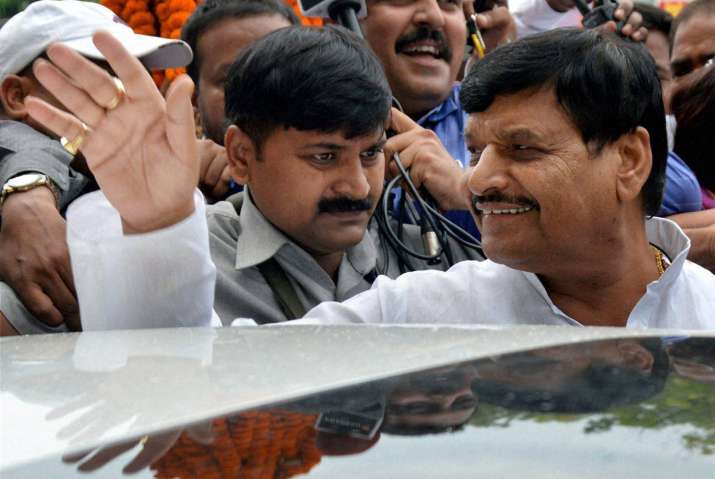 Samajwadi party supremo Mulayam Singh Yadav today  rejected the resignation of Shivpal Singh Yadav from the post of UP party president . The SP chief rejected Shivpal's resignation during a meeting with him at his residence in lucknow
The development comes a day after Shivpal, who is at loggerheads with his nephew and UP CM Akhilesh Yadav, stepped down from all party posts as well as the state government deepening the ongoing crisis in the ruling party.
Shivpal's resignation from the state cabinet has already been rejected by chief minister Akhilesh Yadav.
While Shivpal quit both party post as well as the state cabinet's, his wife Sarla stepped down as chairperson of the Etawah Cooperative Bank, and son Aditya resigned as Chairman of PCF (Uttar Pradesh Cooperative Federation Ltd.) on Thursday.
Earlier today, Shivpal told his supporters that he was with party supremo Mulayam Singh Yadav.
"We have to work towards strengthening the party. I urge you all to go to the party office where Netaji will be coming," Shivpal said while addressing his supporters outside his 7 Kalidas Marg residence in Lucknow.
Shivpal's supporters greeted him with cheering slogans and also raised slogans of "Ram Gopal ko bahar karo (throw out Ram Gopal Yadav)".  
Hundreds of Shivpal Singh's supporters camped outside the 7, Kalidas Marg residence of the former minister, raised anti-Akhilesh Yadav slogans demanding that all departments be restored to their leader.
"You have to go to the party office. We have to calmly convey our views to Netaji," he told the agitated party men who had gathered in his support since Thursday night after he submitted his resignation to Mulayam.
Mulayam had met both Akhilesh and Shivpal separately on Thursday but was unable to broker a truce between them.
Mulayam's cousin and SP's national general secretary Ram Gopal Yadav, who is seen as backing the Chief Minister, on Thursday said the leadership had committed an unintentional "mistake" by removing Akhilesh as party's UP president.
On September 13, Mulayam removed Akhilesh from the post of the party's state chief and named Shivpal in his place. In retaliation, Akhilesh stripped Shivpal of four key portfolios, striking a huge blow to his uncle's public image.
The move by SP chief to replace Akhilesh as party chief, which could possibly have been stoked by the presence of the 'outsider', has now brought the family feud out in the open.