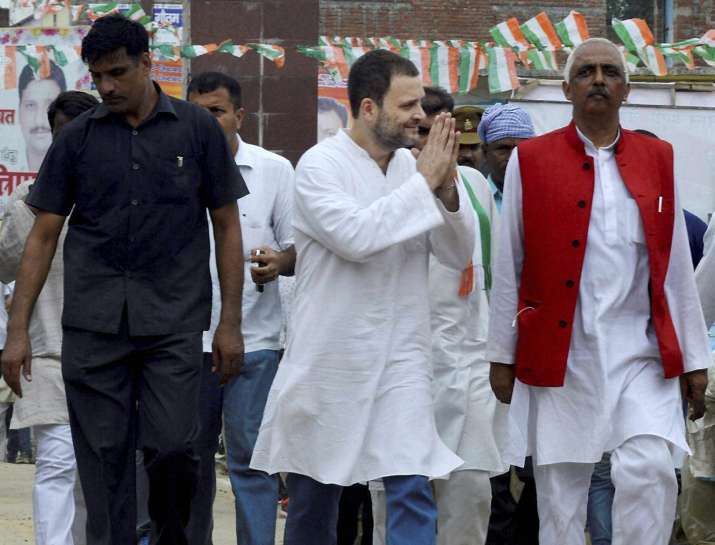 Congress Vice President Rahul Gandhi on Tuesday accused Prime Minister Narendra Modi of bias towards the rich while ignoring the plight of farmers. 
Addressing a crowd at Rudrapur in Deoria district as he began a 2,500-km 'Kisan Yatra' in poll-bound Uttar Pradesh, Rahul said the Prime Minister wanted to waive off loans of the rich but wasn't ready to do that in the case of farmers.
"Modiji is writing off loans of rich corporates. He should do the same for farmers in Uttar Pradesh and elsewhere in the country," Rahul said to applause. 
"We have embarked on this Yatra to know the problems of the farmers and to help Modiji understand the situation too."
Gandhi suggested that the government could help the farmers in three ways. One, by writing off loans taken by them. Second, by slashing electricity bills to half and third by increasing the minimum support price (MSP) for their crops.
"In the UPA government, we waived off farmers' loans worth Rs 70,00 crore. We also kept revising MSP, which this government is not doing," he said.
"The elctricity bills for farmers should be slashed to half," he added.
Gandhi wondered why there was a huge gap between the market price of pulses and the price at which farmers sell them.
"Farmers are selling pulses at Rs 40 per kilogram but its market price is around Rs 200. I ask Modiji, why is there such a huge difference?
"Where is the difference money going? It is being pocketed by middlemen."
He said he had embarked on this Yatra to understand the problems of the farmers and to convey them to the government. 
"Kisano ka dukh hamara dukh hai (We can feel farmers' pain as our own)."
Gandhi rued that the region that was considered a sugar bowl of the country was lying in a state of neglect with most sugar mills shut down. He blamed both the state and central governments for the crisis.
"Now most mills have shut down. Who is responsible for this? The state and central governments are responsible for it."
The Gandhi scion was greeted by huge crowds.
While no one was allowed near the helipad or earlier when he landed with party leader Ghulam Nabi Azad in Deoria, Gandhi later went to a Dalit settlement and interacted briefly with people there. 
He offered prayers at a Shiva temple - Baba Dugdheshwarnath - and then started his Yatra in a specially designed bus.
Gandhi's office said the Yatra will cover 39 districts as well as 55 of the 80 Lok Sabha constituencies in Uttar Pradesh.
"Door-to-door campaign begins from village Pachladi. Met farmers and collected Kisan Maang Patras outlining their demands," Gandhi's official twitter handle said.
"Arrived in Rudrapur to a warm welcome and great enthusiasm. Join @INCIndia on this Kisan Yatra as we fight for rights of farmers, labourers and the poor," Gandhi tweeted earlier.
On way, the entourage was welcomed by crowds and students who showered rose petals on the vehicles. Gandhi repeatedly waved at them.
He is scheduled to hold a "khaat chaupal" at the Satasi Inter College, after which he will go to Ramlakhan square from where he will drive to Deoria.
After a brief stop in the city, his entourage is set to drive to Rampur Karkhana, Tarkulwa and other places where he will address 'nukkad sabhas'.
He will spend the night at the Gorakhpur circuit house.
During the month-long campaign, there will also be roadshows in small and big towns but no large public meeting, Congress leaders said.
Uttar Pradesh will see assembly elections early next year.