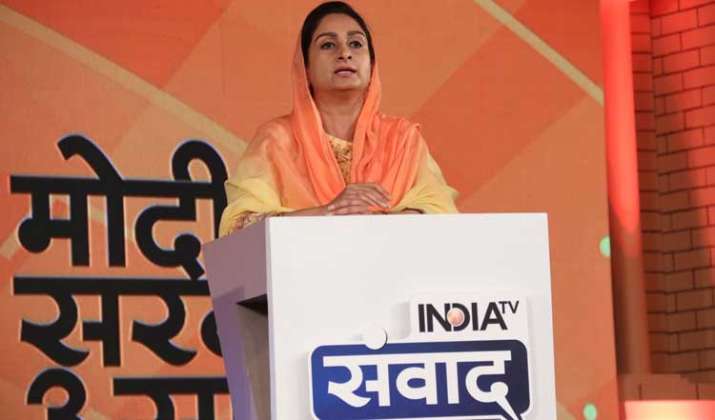 Union Minister for Food Processing Harsimrat Kaur Badal today said that the Narendra Modi government has taken many steps to double the income of the farmers of the country.
Speaking at "India TV Samvaad", Harsimrat Kaur said that the main thrust of the Modi government is on improving the infrastructure for agriculture which will not only result in higher income for farmers but also create employment opportunities for the youth.
Harsimrat Kaur pointed out that in 2008, UPA government had sanctioned 42 Mega Food Parks. However, she reminded that they could operationalised only 2 food parks by 2014.
" The Narendra Modi government, on the other hand, operationalised 6 food parks within three years of its rule. In addition to that, four other parks are ready to be operationalised," she said. 
Harsimrat Kaur further said that out of 100 sanctioned cold storages,  the UPA government could operationalise only 30 between 2010 and 2014.
"Within three years of our rule, we operationalised all 100 cold storages. Not only that, we have sanctioned 101 new cold storages," she added.
She further said that the government has launched schemes for insuring crops in order to safeguard the economic interests of the farmers.
Harsimrat Kaur added that the government has launched the scheme to check the health of the soil so that farmers could get higher produce as well as higher income. 
Praising Narendra Modi government for its achievements on economic front, the Food Processing minister pointed out that in 2016,  Foreign Direct Investment (FDI) was largest in India in its history. 
She also added that even in Food Processing sector, there was 40 percent increase in FDI last year.