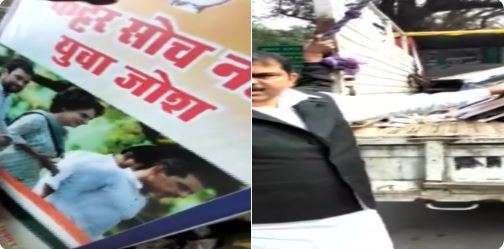 Posters of Robert Vadra along with Priyanka Gandhi Vadra and Rahul Gandhi that were put up on Tuesday outside AICC headquarters, have been removed on Wednesday. 
However, the Congress party blamed the Modi government for the same.
"Modi govt is doing dirty politics, last night the posters were put up here now being removed," ANI quoted Congress' Jagdish Sharma, as saying.
However, later in the day, the Bharatiya Janata Party (BJP) hit back at the Congress when in a press conference its speaker Sambit Patra said that outside the Congress headquarters posters of two criminals were put.
"Outside the Congress headquarters posters of two criminal were put. Rahul Gandhi is criminal number one and Robert Vadra, number two," Patra said.
"In London, Robert Vadra has eight illegal properties," BJP spokesperson added.
Congress party believes in supporting criminals, he stressed.