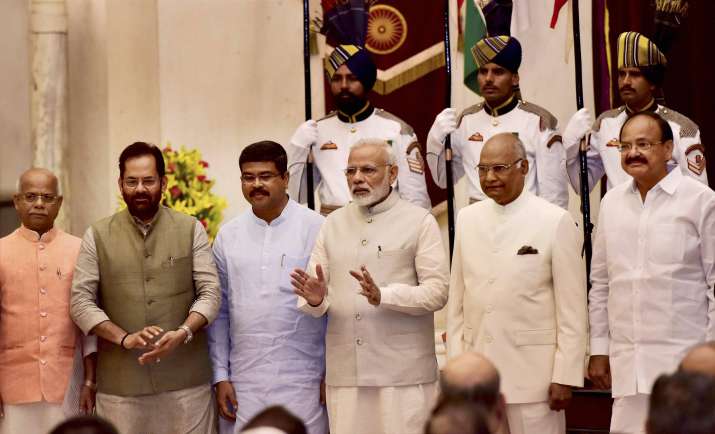 The major revamp of the Narendra Modi government recognised the works of Ministers of State Piyush Goyal, Dharmendra Pradhan, Nirmala Sitharaman and Mukhtar Abbas Naqvi. 
The four took oath as Cabinet ministers today, apart from the nine new faces which were inducted in the Union Cabinet. 
Nirmala Sitharaman
Commerce and Industry Minister Nirmala Sitharaman made her mark as the party spokesperson when BJP was in the Opposition. After being included in the BJP government, she is seen to have grown into her role of Commerce minister. 
She recently visited China for a BRICS meeting where she was engaged in discussions with counterparts even as the protracted India-China border row played out in Doklam.
Piyush Goyal
Power and Renewable Energy Minister Piyush Goyal has developed on PM Modi's 2014 electoral promise to electrify villages and on auctions in the scam-hit coal sector. He also brought a turnaround in production and is seen as a hard-working minister. 
However, the slower consumption in recent months has created a lot of problems. Media reports have suggested that Goyal will be handed the Railway portfolio , replacing Suresh Prabhu who had offered to resign after a spate of train accidents in the last one year. 
Mukhtar Abbas Naqvi
Parliamentary Affairs Minister Mukhtar Abbas Naqvi is the only Muslim face in the Council of Ministers and has represented the government ably in the Parliament. Also, his 'laid-back style' has worked well in managing ties with the Opposition. 
As Minister of Minority Affairs, he has positive report card as official schemes have done well even as the government has been battling with issues like cow vigilantes and mob violence.
Dharmendra Pradhan
Petroleum Minister Dharmendra Pradhan is another minister who has delivered on one of PM Modi's main schemes – the 'Give It Up' plan for people to forego subsidised cooking gas or LPG voluntarily.
Seen as a likely BJP candidate as Odisha CM, Pradhan has delivered in terms of keeping the oil ministry free of lobbies and leaks. The action against a set of lobbyists arrested for accessing official documents early in his tenure set the tone and the ministry has worked to make public sector oil giants more productive, and initiatives like Pahal and Ujjwala are seen to have made an impact on poor voters.