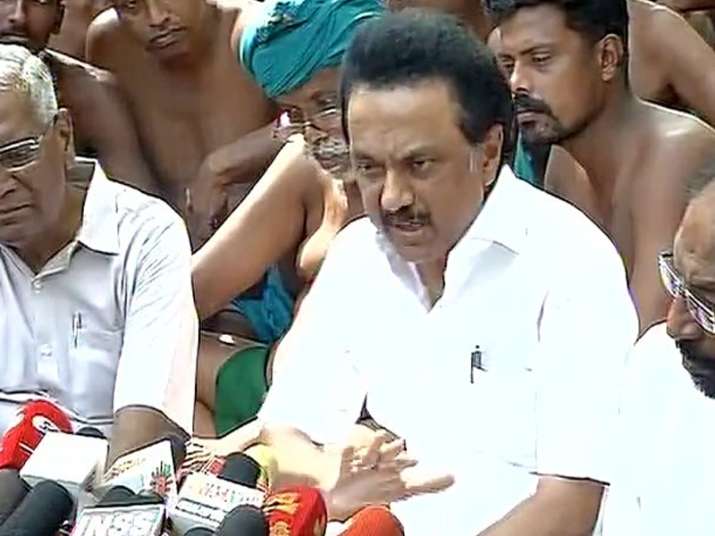 DMK working president M K Stalin today visited the protesting Tamil Nadu farmers at Jantar Mantar here and demanded that Prime Minister Narendra Modi waive off their loans like he promised in Uttar Pradesh during the recent Assembly polls. 
"Just like how BJP promised farmer loan waiver to UP in its poll manifesto recently, it should promise the same to Tamil Nadu farmers," he told reporters. 
The Leader of Opposition in Tamil Nadu Assembly also said that Modi should allow the farmers to meet him and offer a consoling solution at the earliest. 
Tamil Nadu CM should have come here & found a solution to their problems, instead he is busy with RK Nagar by poll in Chennai: MK Stalin pic.twitter.com/jIe2LXQtnB

— ANI (@ANI) April 1, 2017
Leaders from Tamil Nadu cutting across the political spectrum have offered their support to the state's farmers who have been protesting at Jantar Mantar for the past 19 days demanding a drought relief package of Rs 40,000 crore from the Centre and farm loan waiver. 
Taking a dig at Tamil Nadu Chief Minister Edappadi Palaniswami, Stalin said, "The CM is only keen on R K Nagar elections at the moment." 
"The ruling party is neither able to help nor get anything from the Centre. The state and the Central governments are playing blame games. Instead of debating the issue, they should act immediately considering the hardship faced by farmers," he added. 
CPI National Secretary D Raja, DMK MPs Tiruchi Siva and TKS Elangovan were also present. 
Stalin said an all-party meeting would soon be held on the issue. 
"I asked Ayyakkannu (who is leading the protest) to call off the strike, but they are not ready to give up. An all-party meeting would be held in the state to decide the next course of action on the issue," he added.