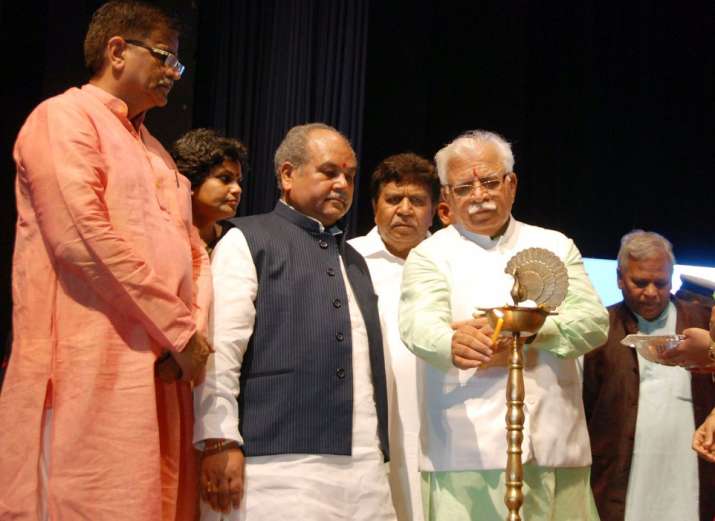 Dubbing the Mewat double murder cum gang-rape case and the beef controversy as "trivial issues", Haryana Chief Minister Manohar Lal Khattar on Saturday said he does not pay much attenetion to these matters. 
"These are trivial issues and I don't pay much attention to these small issues. Today we should be talking about Swarna Jayanti celebrations and achievements of Haryana government," Khattar told reporters on the sidelines of an event 'Swarna Jayanti' to mark 50 years of Haryana on November 1.
"Collecting samples of beef biryani and double murder cum gang-rape case of two sisters is not an issue according to me. These were petty issues compared to golden jubilee celebrations and could take anywhere in the country," Khattar said. 
On August 24, a 20-year-old woman and her 14-year-old cousin were allegedly gang raped by several men in their home in Mewat while their uncle and aunt were tied up and then beaten to death. The incident happened in Dhingeri village of Tauroo in Mewat, 45 km from Gurgaon.
The girls alleged that the attackers had said that they were being punished for consuming beef. 
The state government had last year enacted the Haryana Gauvansh Sanrakshan and Gau Samvardhan Act, making cow slaughter punishable with rigorous imprisonment up to 10 years and a fine of Rs 1 lakh. 
Ahead of Eid on September 8, Haryana Cow Protection Task Force in Charge -DIG, Bharti Arora and Gau Sewa Aayog Chairman, Bhani Ram Mangla conducted a drive to check biryani and collected samples of it from Mewat. 
Later, Haryana Minister Anil Vij said that all seven samples were found containing beef during testing at a laboratory in Lala Lajpat Rai University of Veterinary and the Animal Sciences in Hisar. 
Mangla had claimed that there were reports of beef biryani being sold across Mewat, including villages such as Nuh, Ferozpur Jhirka, Nagina, Punhana, Bhadas, Shah Chokha and others.