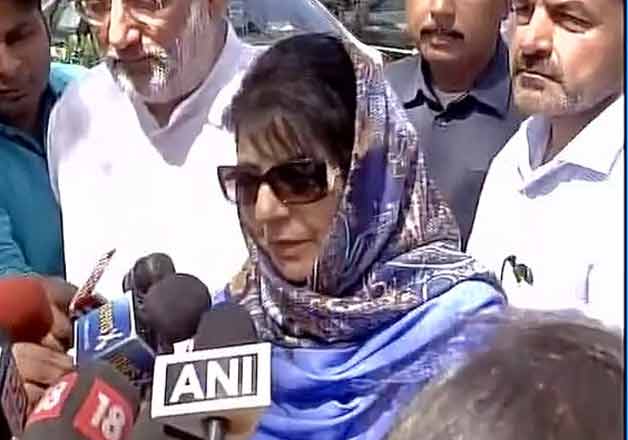 New Delhi: PDP chief Mehbooba Mufti today met PM Narendra Modi in a bid to bring an end to the impasse over government formation in Jammu and Kashmir.
Terming her meet with PM as good and very positive, PDP Chief said that she would go back to Srinagar to decide next step.
Even as she made no announcements, PDP chief said she has called a legislature party meeting on Thursday where she will take further course of action.
On stalemate over government formation, Mehbooba says, "I am satisfied with my meeting with the PM."
PDP chief Mehbooba Mufti may take oath for Office of Chief Minister in Jammu & Kashmir on March 31 or April 2, according to sources.
Though the exact date of government formation has not been finalised but what is certain is that the swearing in will not take place before March 31.
Since PDP does not want state budget to be passed in hurry, it is likely be passed under the rein of Governor NN Vohra.
The BJP's stand was made clear by Finance Minister Arun Jaitley, who said on Monday, "We are committed to the alliance agenda. Mehbooba has to make up her mind."
It was after Mr Jaitley said on the weekend that the BJP was committed to the "agenda for alliance" signed between the two parties that Ms Mufti flew to Delhi on Monday, only three days after she had left the capital amid yet another breakdown in talks, despite her meeting BJP chief Amit Shah.
This is Mehbooba's second visit to the national capital in five days - she had held talks with BJP president Amit Shah on Thursday. But, that meeting failed to resolve the deadlock and in the days ahead some tough statements were issued.
PDP is also understood to have called for a Legislative party meeting on Thursday where she may be elected as its leader.
PDP and BJP had formed an alliance on March one last year with Sayeed as the Chief Minister. Both the sides had formed an "Agenda of Alliance" which sought to address internal and external dimension of the state.
The PDP had toughened its stance after Sayeed's demise by seeking concrete plans for the state's development including handing over of power projects to the state and vacation of land by Army before the coalition could be revived.
Governor's rule was imposed in the state on January 8 after Mehbooba decided against taking over the reins after her father's death.