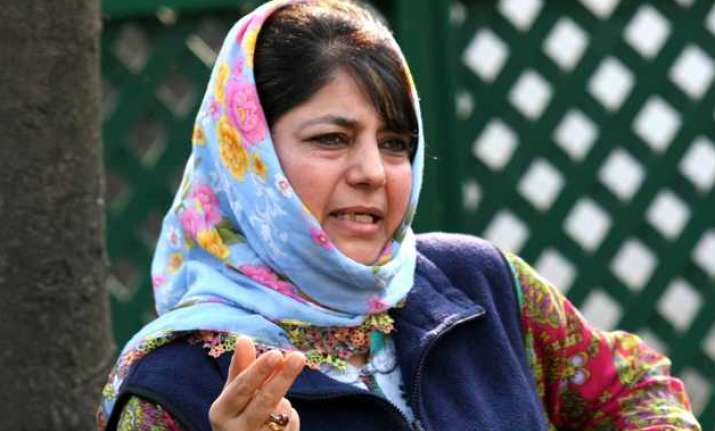 New Delhi: Asserting that raising slogans like 'Bharat Mata Ki Jai' is a proof of nationalism and patriotism, BJP's key ally Shiv Sena today demanded that People's Democratic Party (PDP) chief Mehbooba Mufti should chant slogan 'Bharat Mata Ki Jai' before assuming power as the first woman Chief Minister of Jammu and Kashmir.
An editorial published in party's mouthpiece 'Saamna' questioned the ruling alliance in the border state saying 'Mehbboba's links with separatists in Kashmir has always been questionable'.
The article further goes on to say that the PDP chief is sympathetic towards anti-national elements.
Speaking to media, party leader Sanjay Raut referred to RSS chief Mohan Bhagwat's statement that efforts should be made to establish the salutation of 'Bharat Mata ki Jai' across the globe and the 'mission should start from Kashmir'.
"I believe raising slogans like 'Bharat Mata Ki Jai' and 'Jai Hind' is definitely a proof of nationalism. It comes from within, there is no need for force. If your thinking has changed, then Mehbooba Mufti must raise the slogan before taking oath," he said.
"It has been the nature of Mehbooba Mufti to be sympathetic towards Afzal Guru. These people are not ready to call him a terrorist. The BJP-PDP alliance has been formed in Jammu and Kashmir. An environment of nationalism has been created in the nation. Now, the question is whether Mehbooba ji will raise the slogan of 'Bharat Mata Ki Jai'," Raut added.
Mufti is set to become the Chief Minister of Jammu and Kashmir where her party, the PDP, is in alliance with the BJP. The decision to continue the alliance was taken following a two-month long standoff between the two parties over core issues, including the Armed Forces Special Powers Act.
Mufti last week met J&K Governor NN Vohra to stake a claim to form a government in the state after PDP legislators unanimously elected her as their legislature party leader.