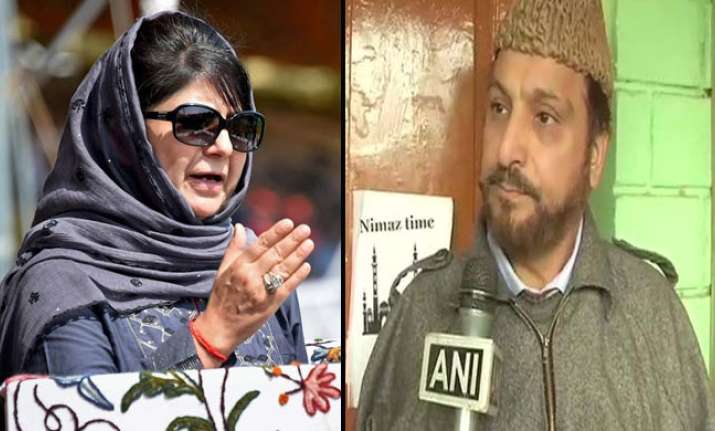 Jammu and Kashmir chief minister Mehbooba Mufti on Thursday condemned the demand for a separate state for Muslims like Pakistan. 
Without naming any names, the J&K CM wrote on Twitter: "J&K was neither a party to the partition of our country nor did we support division on religious lines. We as a state opted for the opposite but unfortunately are still paying the price. I strongly condemn any statement made asking for Muslims in India to demand a separate state".
Deputy Grand Mufti of Jammu and Kashmir Nasirul Islam on Tuesday had alleged that Muslims in India were being "harassed" under pretexts such as love jihad and cow vigilantism, thus, they should demand a separate country from India. 
"Muslims are being harassed under various pretexts such as love jihad and cow vigilantism... They are being targeted. In India, Muslims are the second largest community. Pakistan was formed with a population of 17 crore. If it continues like this, then they should demand a separate country within India," Islam said.
He also asked the ruling PDP to break its alliance with the BJP, and seek the removal of "draconian laws" such as the Armed Forces Special Powers Act (AFSPA).
Following the remarks, Union Home Minister Rajnath Singh, in Punjab, said: "I also want to appeal to those plagued with mentality of casteism, religion and minority should come out of it and they need to ponder over it. All should believe that we are Indian."
On the PDP-BJP coalition in the state, Islam said, "Chief Minister Mehbooba Mufti should seek the removal of draconian laws such as the AFSPA from the state and also break her party's alliance with the BJP."
The cleric also alleged that the chief minister's assurance in the Legislative Assembly that the probe into the Shopian killings will be taken to a logical conclusion was an "eyewash".
Two civilians were killed in army firing on stone pelting protesters in Shopian on January 27.