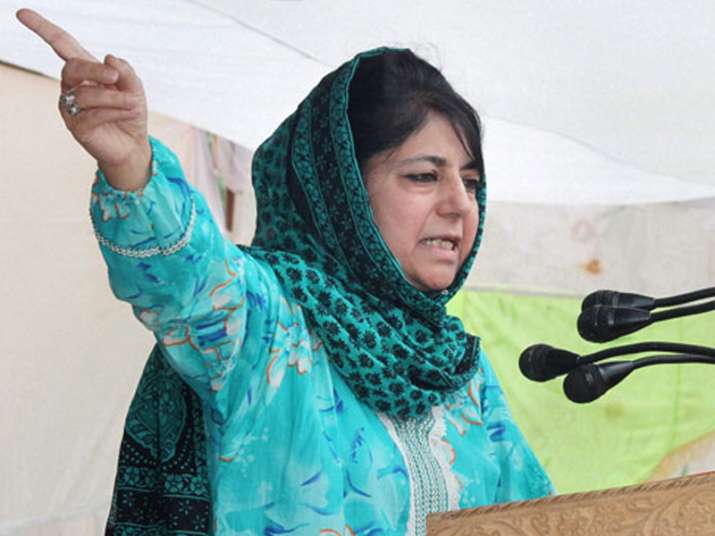 Expressing concern over rising number of youths joining militancy and getting killed in encounters with security forces, Jammu and Kashmir Chief Minister today asked local militants to give up their arms and return to the mainstream.
Addressing an election rally in south Kashmir, Mufti said that nothing can be achieved through violence as it  has only led to death and destruction over the years. 
"Today an encounter is going on at Chadoora... We made efforts to tell the lad to lay his arms and come back (to the mainstream). Violence will not yield anything," she said.
"The graveyards are getting filled up and the cremation grounds too. Violence has only led to death, be it militants, policemen or armymen. Violence is not a solution to any issue... only peace and dialogue can lead to a solution," she added. 
The Chief Minister said that she has already instructed the security agencies to try to get the local militants to surrender even during encounter situations.
Meanwhile, a militant was killed today in an encounter while two civilians also lost their lives in security forces' action against stone-pelting protestors in the Chadoora area of central Kashmir's Budgam district. 
Security forces had launched a cordon and search operation in Durbugh area of Chadoora early today following information about the presence of militants. The search operation turned into a gunbattle after militants opened fire on the security forces.
Anantnag constituency will go to polls on April 12. The seat will see a contest between Jammu and Kashmir Pradesh Congress Committee president (JKPCC) Ghulam Muhammad Mir and PDP candidate, cinematographer-turned-politician and son of PDP founder late Mufti Mohammad Sayeed, Tasaduq Mufti.
South Kashmir, which was the hotbed of the 2016 unrest, is an important voter base for the ruling PDP.