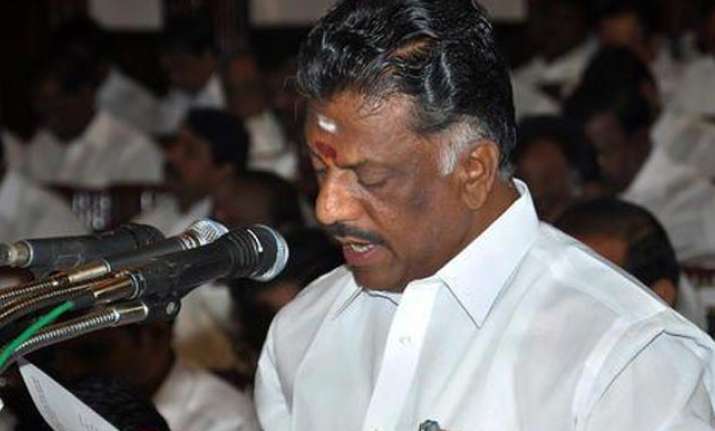 In his third stint in the top office, O Panneerselvam was today sworn in as Chief Minister of Tamil Nadu hours after his predecessor and party supremo J Jayalalithaa passed away after a prolonged illness.
Panneerselvam (65), often hailed as Jayalalithaa's 'Man Friday', has been acting chief minister ever since Jayalalithaa was admitted to the hospital on September 22. 
Known to be a Jayalalithaa devotee, Panneerselvam is one of Jayalalithaa's most reliable man and had served as the CM for two times. However, on both occasions, he had succeeded Jayalalithaa because of her legal cases.
Here are some facts giving an insight into who O Panneerselvam is and his political career, and why he is the prime choice to succeed Amma: 
Born in January 1951, Panneerselvam started his career as a tea stall owner.

He entered politics in 1996 and became the chairperson of Periyakulam municipal in Theni district. 

A prominent Thevar community face in the party, Panneerselvam contested Assembly elections for the first time in 2001 from Periyakulam and became the PWD minister after winning.

He sworn in as the 13th Chief Minister of Tamil Nadu in September 2001 when Jayalalithaa was barred from holding office by the Supreme Court. 

His tenure lasted for six months, from 21 September 2001 to 1 March 2002. In March 2002, he resigned as chief minister and Jayalalithaa was sworn in again after the Supreme Court overturned her conviction and she won a by-election from Andipatti assembly constituency.

Panneerselvam held the Public Works, Prohibition and Excise and Revenue portfolios in Jayalalithaa's Cabinet.

On September 29, 2014, he again took over Jayalalithaa as Tamil Nadu's 17th CM when she was convicted in the disproportionate assets case. However, he resigned on May 22, 2015 and Jayalalithaa was sworn in again as chief minister after the Karnataka High Court acquitted her in the disproportionate assets case on May 11, 2015.

Panneerselvam held the portfolios of Finance, Planning, Legislative Assembly, Elections and Passports, Personnel and Administrative Reforms in Jayalalithaa's cabinet. 

Has also served as the leader of the AIADMK legislative party and the Leader of Opposition in the state Assembly briefly, after the party lost the assembly elections in May 2006. 

He has been a minister in every AIADMK regime since 2001, holding the Finance and other important portfolios like Public Works and Prohibition and Excise.