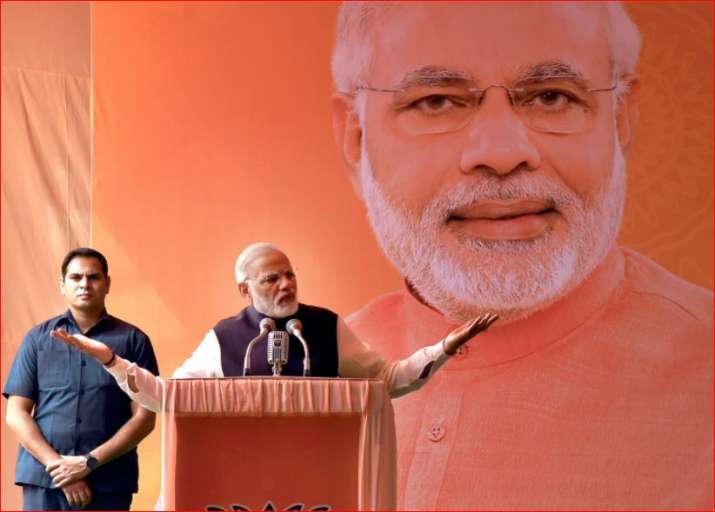 In an indirect attack on Congress party, Prime Minister Narendra Modi today advocated transparency in the recruitment that political parties do in their respective organisations.
Addressing the media persons at the BJP's annual Diwali Milan programme in New delhi, PM Modi said that the country is still adapting to democracy in political parties. 
"You (the media) show us what we need to focus on. Democracy in political parties is something that the country is adapting to. We need to have transparency in the recruitment that political parties do. How the leadership of a political party evolves? What kind of opportunities are given to new generations. Do democratic values form the core of their values. It should become an issue of our debate and deeply so," the prime minister said.
The prime minister's statement assumes significance as it comes ahead of Rahul Gandhi's elevation as the Congress president. 
"Democracy in political parties is a subject more people should know more about. It is true that the funding of political parties is a point of media discussion and many things come out in the open. But overall, how they are formed, how they function, how they recruit, their values, their ideologies and their weaknesses, what is the reason behind such weaknesses... all this should be debated," he said, adding that political parties evolving "with a true democratic spirit is necessary for the country, necessary for a democracy".
"I hope the people who are here will one day carry the debate forward."
He paid his gratitude to to media for its "positive role" it played in making the Swachh Bharat Mission a success, despite criticizing the government over other issues.
"Half of the newspaper pages would be filled with the government's criticism. But when it comes to the Swachh Bharat Abhiyan, all are on the same page. I thank each one of you for making it a personal mission."
Practical problems in meeting you often: Modi to journalists
Prime Minister Narendra Modi also said there were "practical problems" due to which he was not able to meet the media often.
"There are hopes from the both sides. There are complaints from the both sides. But I think it is our professional hazard. We have to find a middle path to move forward, smilingly," he told mediapersons at the BJP's Diwali Milan event here
"I recall how I used to spend much of my time with you... Most of you are from the same generation. Getting nostalgic is natural. There were no barriers, no difficulties then. Those were the days when we used to search for you and my speech would some time find some space (in the media)."
He said the media unlike previously has expanded so much now that it was difficult to meet all journalists.
"Some of you tell me, Modiji you don't meet us now. Earlier we used to meet you, used to just knock at the door and enter. That was a different atmosphere of happiness. We used to talk a lot but today it has become difficult.
"There were only a few in your fraternity. And the circle has become so big and media itself has so evolved in so many ways... It has posed us a challenge in maintaining contact and maintain openness. There is no problem with intentions, the problem is practical," Modi said.
He said understanding each other further strengthens the relationship and mutual belief.
"My experience says that everyone performs duties formally. But informally every one has something to contribute to the nation. They (journalists) tell us about bottlenecks... tell us where we need to improve. You guys travel a lot," he said.
Modi said he could also identify some media who criticise for the sake of criticism.