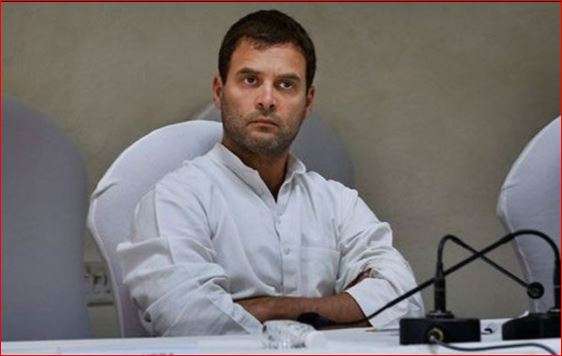 "Will Rahul Gandhi hold a midnight candlelight march at India Gate to apologise for maligning the Hindu religion by using phrases like saffron, hindu terror?" BJP spokesperson Sambit Patra questioned in a press conference in New Delhi on Monday soon after a National Investigation Agency (NIA) court acquitted all five accused, including Aseemanand, in the 2007 Mecca Masjid blast case.
The special NIA court's verdict gave the ruling BJP ample ammunition to target the Congress which headed the United Progressive Alliance (UPA) government in 2007. The ruling party came out all guns blazing at the Congress demanding an apology from the party leadership for 'defaming' Hindus. 
Rahul Gandhi ducks question  
Congress president Rahul Gandhi dodged a query on acquittal of right-wing activist Swami Aseemanand in the 2007 Mecca Masjid blast case.
The Congress president, who began his three-day visit to his Lok Sabha constituency Amethi and to neighbouring Rae Bareli represented by his mother Sonia Gandhi, refused to take the question on the Hyderabad court verdict.
Also read: Mecca Masjid blast case: Special NIA Judge who acquitted all 5 accused resigns citing 'personal reasons'
Asked by a reporter to comment on the verdict, Rahul, while emerging out of a programme, ignored the poser and told his driver to move ahead. 
'Congress stands exposed'
The BJP latched on to the verdict to fire a fresh salvo against the Congress for the use of terms such as 'saffron terror' and 'Hindu terror' by its senior leaders and former Union home ministers P Chidambaram and Sushil Kumar Shinde. 
Sambit Patra accused Congress leaders of practising "politics of appeasement" in their stand on the court's verdict and wondered what the UPA government did in its over seven years of rule following the blast. 
"For its appeasement politics, the Congress targeted and defamed Hindus and the country for merely some votes. That conspiracy has been exposed. The Congress has been unmasked and exposed like never before," Patra said.
Congress clarifies
Facing relentless attacks from the BJP, the Congress sought to steer out of the controversy, saying that the party believes that terrorism should not be linked to religion.
Congress spokesperson PL Punia said terrorism is a criminal mentality and it cannot be linked to any religion or community. 
"Rahul Gandhi or the Congress party has never used the words 'saffron terror'," he told reporters when asked about the BJP's allegations. 
"It is mere rubbish. There is nothing called saffron terror. It is our clear belief that terror cannot be linked to any religion or any community or caste. It is a criminal mentality which leads to criminal activity and it cannot be linked to any religion or community," Punia added. 
A massive blast had ripped through the Mecca Masjid on May 8, 2007, during Friday prayers, killing nine people and wounding 58. 
(With inputs from PTI)
Watch full coverage of the news on Aaj ki Baat: