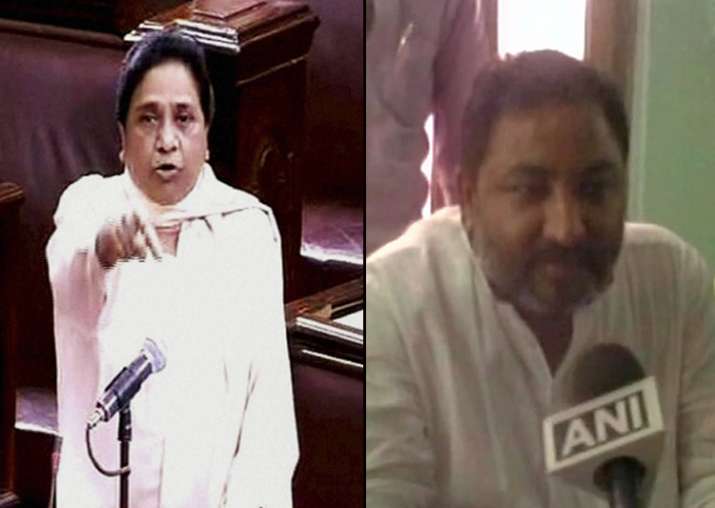 New Delhi: Dayashankar Singh, the Bharatiya Janata Party's vice-president in Uttar Pradesh, was removed from all party posts hours after he blurted derogatory slurs against Bahujan Samaj Party (BSP) chief Mayawati, calling her "worse than a prostitute".
Singh made the controversial statement during his visit to Mau in UP. Talking to media, he said:
"Even a prostitute fulfills her commitment after she is paid. But Mayawati sells party tickets to anyone who paid her the highest amount. If someone gives her Rs 1 crore for a ticket she will give it to other person who is offering Rs 2 crore," Singh said.

"Mayawati has become worse than a prostitute and abandons the ideals of Kanshi Ram," he said.
WATCH: UP BJP VP Dayashankar Singh uses derogatory language against BSP Chief Mayawati, compares her to a prostitutehttps://t.co/vic0uDhbkq

— ANI UP (@ANINewsUP) July 20, 2016
BJP's UP unit president Keshav Prasad Maurya said that Dayashankar Singh's remark was not acceptable and therefore he had been relived of all party posts.
He also apologised for Dayashankar's objectionable remarks. "I think this is wrong and I apologise. Such words shouldn't be used," said Maurya.
Under attack for his remarks, Dayashankar had earlier apologised and said, "Mayawati is a big leader,I can't say such a thing about anyone. I apologize for my remark."
"I can't even think about Mayawati ji in such a way. She has reached here after a lot of struggle," he added. 
The BSP, however, is not satisfied by the action taken by BJP against its state vice president and has demanded his arrest. 
"We will lodge an FIR against Dayashankar Singh and will drag him in court. We will do whatever is possible," senior BSP leader and Rajya Sabha MP Satish Chandra Mishra said. 
Meanwhile, taking precautions, Uttar Pradesh Police have deployed heavy force outside UP BJP headquarters in Lucknow. 
Lambasting BJP, former UP CM Mayawati said, "It is clear that BJP is scared by BSP's growing influence in UP and other states and that's why they are giving such statements".
A furious Mayawati, who is a dalit leader, demanded that Singh be expelled and warned the government in the Rajya Sabha that she will not be responsible if people hit the streets. Her party threatened to take legal action against the BJP leader. 
She was joined by leaders from other parties, including Congress. 
"It shows the mentality of the BJP," said Congress leader Ghulam Nabi Azad.
These kind of derogatory statements show that BJP is frustrated with the growing public support for BSP: Mayawati pic.twitter.com/oOxu4DnCLy

— ANI UP (@ANINewsUP) July 20, 2016
Daya Shankar Singh is one of the 15 vice president of the BJP in Uttar Pradesh, where campaigning for elections next year is picking up pace and aggression.
Finance Minister Arun Jaitley today expressed "deep regret" in Parliament as the ruling BJP tried to control damage after its leader in Uttar Pradesh was heard on camera hurling no-holds-barred abuse at rival politician Mayawati and comparing her to a prostitute.
"I express personal regret. I associate with your dignity and stand with you," Jaitley said in the Rajya Sabha.
"We respect Mayawati and we condemn such statement made by any person," said BJP's Mukhtar Abbas Naqvi.
RS uproar over BJP leader's remarks against Mayawati 
Rajya Sabha today witnessed an uproar over alleged derogatory remarks by a BJP leader in Uttar Pradesh against BSP chief Mayawati, forcing Leader of House Arun Jaitley to condemn it and express regret. 
The issue was raised by Leader of Opposition Ghulam Nabi Azad who said though his party had political differences with the BSP, it will not allow any such remark to be made against a woman, who is also a leader of a political party and has been a four-time Chief Minister. 
He said the use of words by the BJP leader only reflected his mindset and a case should be registered against him under laws on atrocities against SCs/STs. 
Azad demanded that the person be arrested and added that "someone with such a mentality should have no place in any party or hold any office in any party." 
Jaitley on his part said he was not aware of the incident till Minister of State for Parliamentary Affairs Mukhtar Abbas Naqvi apprised him few minutes back. 
"It is not right and I condemn the use of such words and I will look into this matter. I express personal regrets. I associate our dignity with yours and stand with you," Jaitley said. 
Mayawati's responded in anguish saying "I did not marry and considered the entire country's oppressed as my family. I have always followed my mentor Kanshi Ram's advice to take (donation) from the underprivileged and not industrialists," she said, adding that the BJP was perturbed by the huge support her party was getting in Uttar Pradesh. 
Observing that she was "grateful" to Jaitley and the opposition leaders for supporting her, Mayawati said "What that BJP leader (from UP) has said, he said it not to me but to his sister and his daughter because people treat me like their daughter and sister. The country will not forgive the BJP for encouraging such people." 
She warned the government that she will not be responsible if people hit the streets over the issue. 
The controversy came at a time when the opposition was trying to corner the government over the beating up of four Dalit men in Gujarat for skinning a dead cow, with the House being repeatedly adjourned during the day. 
BSP leader S C Mishra and Congress leader Digvijaya Singh also sought action against the BJP leader under SC/ST Act. 
The opposition wanted passage of a unanimous resolution condemning the remarks. Deputy Chairman of Rajya Sabha P J Kurien said the entire house unanimously condemns the remark and asked the government to ensure that strictest action is taken against the person who made the statement as per the law.
Mayawati also reminded members that though her political fight was very sharp, she has never used foul language against her opponents. 
Leaders from various political parties condemned the remarks. One of the most forceful one was Renuka Choudhry who spoke in anger. 
"An incident has happened again," she said as she took on the BJP and the Centre over the issue. She said women MPs "don't leave the house and come to the House for entertainment of these people". 
Pointing to the treasury benches, she said that "mere lip service won't do and the person who has made the statement should be made an example of." 
DMK member Kanimozhi said the kinds of words used against Mayawati was unacceptable. "It is a shameful act and if this is said to a leader like Mayawati, then I wonder what is the state of common women," she said. 
TMC leader Derek O'Brien too condemned the incident and said lady members from the treasury benches should rise and condemn the remarks. 
But the request that did not bear any fruit.