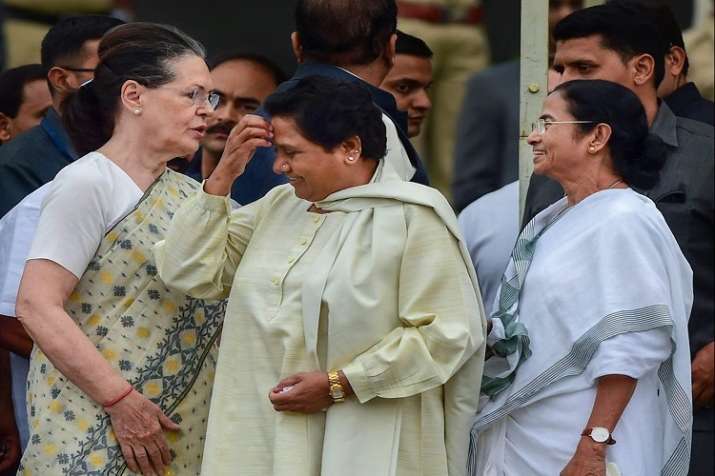 In what has given the Bharatiya Janata Party (BJP) fresh fodder to question Rahul Gandhi's political skills, Bahujan Samaj Party (BSP) chief Mayawati on Wednesday dumped the Congress for an alliance. Mayawati said her partu will not forge an alliance with the Congress "at any cost" for the upcoming Assembly polls in Rajasthan and Madhya Pradesh.
Mayawati's decision has served a body blow to the Congress' aim of stitching a Grand Alliance or Mahagathbandhan against the BJP ahead of 2019 Lok Sabha elections. Mayawati has announced that BSP will contest Assembly polls in Chhattisgarh with former CM Ajit Jogi's outfit.
Blaming the Congress for what she called its "arrogance" and "stubborn attitude", the former Uttar Pradesh chief minister also said even though Congress chief Rahul Gandhi and his mother Sonia Gandhi appeared in favour of an alliance, there were other "senior leaders" who worked to foil any possibility of an understanding. Mayawati alleged the Congress had not mended itself and like the BJP betrayed her party.
"The Congress is under the wrong impression that it can match all the tactics of BJP...If the BJP faces just the Congress, it can easily form the government. Still the Congress does not seem prepared for an honest alliance between opposition parties," Mayawati said.
Mayawati attacked veteran Congress leader Digvijaya Singh and even called him a 'BJP agent'.
Also Read: 'I'm biggest critic of Modi, Shah': Digvijaya Singh responds to Mayawati's 'BJP agent' charge
"A selfish senior leader, who is also a BJP agent, in his TV interview talking about the alliance claimed the BSP president was under pressure of ED and CBI to deter her from entering into an alliance. But this is totally baseless," she asserted.
Differences can be ironed out: Congress
Reacting to Mayawati's decision, Congress chief spokesperson Randeep Surjewala said the party respects her decision. 
"She has reposed full faith in Rahul ji and Sonia ji and we respect that too. If there is harmony among Sonia Gandhi, who is our guide, and Rahul Gandhi, who is our leader, and Mayawati ji, then no fourth person can create a rift among them."
"If there are any creases left, they will be ironed out mutually among them with harmony," he told reporters in Delhi.
Surjewala also said once the leaders have amicable, respectable, fruitful relationship with each other, "all other creases can be ironed out."
Coalition not in Congress' DNA: BJP 
The BJP took a swipe at the Congress after Mayawati's announcement with its leader and Union minister Ravi Shankar Prasad saying forging a coalition was not in its DNA and it only gives importance to the Gandhi family.
"With whom the Congress allies is entirely their business, but in light of concerns and pain of Mayawati, I can only say that coalition is not a part of the Congress DNA. They only give importance to the family," Ravi Shankar Prasad told reporters in Delhi.
BJP general secretary Ram Madhav also took a dig at the opposition over its unity efforts.
"Mahagathbandhan (grand alliance) in 'progress'. First AAP and now BSP calling the bluff. Mayawati says Congress arrogant, a new revelation for her, and declares no alliance in Madhya Pradesh and Rajasthan too. Chhattisgarh already dumped," he tweeted.
WATCH: Aaj Ki Baat - Mayawati says no to alliance with Congress
(With inputs from PTI)