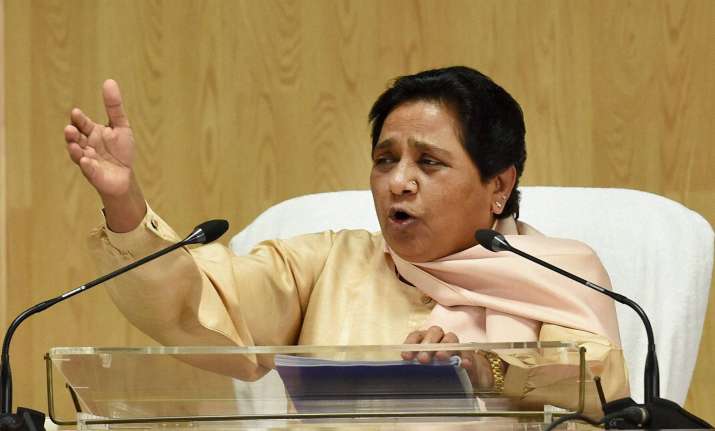 Blasting the over "poor implementation" of the demonetisation of high value currency notes, Bahujan Samaj Party (BSP) chief Mayawati today accused Prime Minister Narendra Modi of "blackmailing citizens by getting emotional everytime".
She also said that the government's move to demonetise 500 and 1,000 rupee notes was "politically motivated for political gains". 
In a direct attack at the Prime Minister, she said: "It is good that the Prime Minister has left his family for the country, but it doesn't mean that he will harass the people of the country," she told reporters here.
"And Modiji is getting emotional every time, isn't it an emotional blackmailing of the common people of the country?" she remarked, referring to Modi's emotional appeal over demonetisation at a rally in Goa and at a meeting with BJP MPs here.
"The demonetisation decision taken by the central government was politically motivated and for political gains," Mayawati said.
"Without planning, demonetisation has created a kind of financial emergency situation in the country," the former Uttar Pradesh Chief Minister said.
She also said that demonetisation would not help the ruling Bharatiya Janata Party (BJP) in the upcoming Uttar Pradesh assembly elections. "...Instead of gaining anything, they are set to lose," the BSP supremo said.
The BSP chief also said that the "BJP's main opponent in Uttar Pradesh was the BSP and not the Congress and Samajwadi Party, which are running on oxygen". 
Assembly elections in Uttar Pradesh are due early next year.
On November 8, the central government announced the spiking of 500 and 1,000 rupee notes to curb "black money and corruption", which has led to serpentine queues outside banks and ATMs since then.
Mayawati also said her party is not against demonetisation but at the "poor planning and implementation" of the move.
"About 100 people have died across the country due to demonetisation and the government hasn't given or announced any compensation for such families," she alleged.
The BSP supremo also alleged that the government's decision of spiking the high value notes was like issuing "dictatorial orders", which is bad for "democracy".
Criticising BJP leaders, Mayawati said, "No sign of tension (over demonetisation) can be seen on the faces of BJP leaders as they were given enough time to adjust their black money before Modiji's demonetisation announcement."
Slamming Modi for not addressing Parliament over demonetisation, Mayawati said, "He (Modi) is scared of addressing the opposition leaders over demonetisation in Parliament."
She also said her party was opposing demonetisation as it has adversely affected the lives of 90 per cent people of the country. "We are opposing it over the poor implementation and poor planning of the government. And we shall keep on fighting against it with full force everywhere in the country," Mayawati declared.
(With IANS inputs)