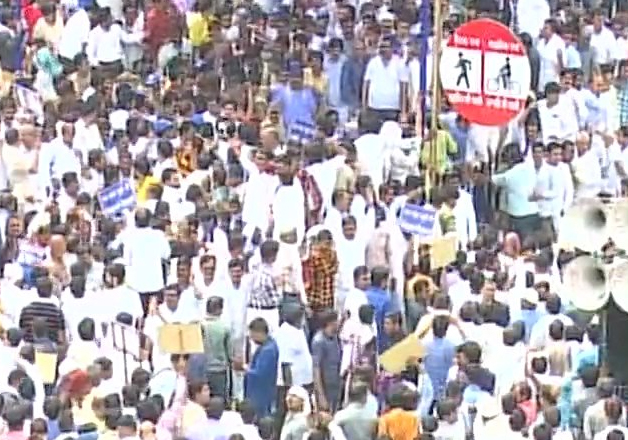 Lucknow: Enraged over BJP leader Dayashankar Singh Singh's derogatory remarks against Mayawati, thousands of Bahujan Samajwadi Party (BSP) workers today staged a protest in the state's capital demanding the arrest of the suspended BJP state vice-president.
In what proved to be anxious moments for the district administration, BSP workers burnt an effigy of Dayashankar at the main Hazratganj crossing.
State BSP president Raj Achal Rajbhar who was leading the protests told the media that the statement had revealed the "anti-Dalit mentality" of the BJP.
"Dayashankar must be put behind bars for such a mentality. Matter does not end by just apologising," party leader Satish Mishra told reporters in Delhi.
Senior party leader Naseemuddin Siddiqui, who joined the protests in Lucknow, said that the demonstrations would continue until Singh was arrested.
Despite a denial of permission by the Lucknow District Magistrate, protesters in the morning gathered in huge numbers at main Hazratganj crossing and raised slogans against Dayashankar.
"Usually due to traffic issues, public inconvenience and security concerns; we don't give permission to protest at Hazratganj," the Lucknow DM said.
Heavy security was deployed at Hazratganj, a shopping area at the heart of Lucknow. Security was also increased at the BJP's state office.
The party said that workers from different districts were asked to reach the capital to lodge a strong protest against the remarks made by the BJP leader. At least 500 to 1000 workers from each district arrived in the night itself.
The DM appealed the BJP workers to end protest allow the traffic to resume. He also assured the Dayashankar will be arrested in 36 hours.
Meanwhile, the BJP leader has gone missing with reports suggesting that he is likely to surrender before court.
Police has detained Dayashankar's cousin and he is being interrogated about the BJP leader's whereabouts.
Yesterday, the BSP had filed a police complaint seeking lodging of an FIR against Dayashankar under the SC/ST Act for his derogatory comments against Mayawati.
BJP state president Keshav Prasad Maurya had yesterday only sacked Dayashankar from the party, hours after he announced that Singh had been relieved from all organisational responsibilities.
Dayashankar's remarks drew severe criticism from members in the Parliament, including women MPs, with Deputy Chairperson PJ Kurien, saying that the House wants the government to ensure that stringent action is taken against the BJP leader, as per law, for his unforgivable comments.
Finance Minister Arun Jaitley had also earlier expressed 'personal regret' in Parliament over Dayashankar's remark.
"It is not right and I condemn the use of this word. And if a person has said this, we will investigate. I express personal regret. I associate with your dignity and stand with you," Jaitley told Mayawati in the Rajya Sabha.