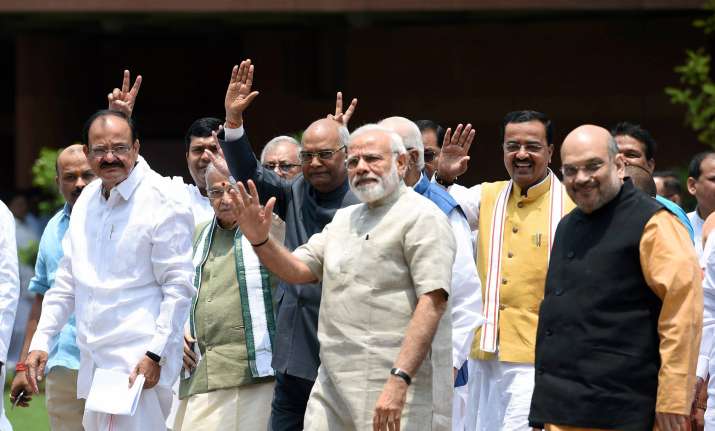 Prime Minister Narendra Modi on Sunday remembered the Emergency imposed on this day in 1975, saying "such a black night" cannot be forgotten, and underlined the need for eternal vigilance to preserve democracy. In his monthly radio programme 'Mann Ki Baat', Modi said it was essential to remember the incidents which have caused harm to democracy and move ahead towards the positives of democracy. He recalled that democracy-lovers had fought a big battle against the Emergency imposed by then Prime Minister Indira Gandhi and said the pro-democracy "heritage" needs to be strengthened. 
"Not only is Democracy a system, but also a 'sanskar'- a part of our ethos. Eternal Vigilance is the Price of Liberty," he said. 
Recalling imposition of the Emergency on June 25, 1975, the Prime Minister said it was "no devotee of democracy can ever forget such a dark night."
"One needs to be constantly alert about our Democracy, that is why we must also keep remembering the events that inflicted harm upon our democracy; and at the same time move ahead, carrying forward the virtues of democracy. June 25, 1975 was a dark night that no devotee of democracy can ever forget. No Indian can ever forget," Modi said.
He said that in a way, the entire nation had been converted into a prison, with opposing voices being curbed. 
"The country had virtually become a prison. The voice of the opposition had been smothered. Several prominent leaders including Jai Prakash Narayan had been jailed," the prime minister said. 
Modi said even the judiciary "could not escape the sinister shadows of the Emergency."
He said the students of today's journalism and those working for democracy have been remembering "that black incident" as part of their continuous efforts to create awareness about democracy "They should be doing so," Modi said. "The press was completely muffled. The present-day students of journalism and the champions of democracy have been endeavouring towards raising awareness about that dark period, by constant reminders, and should continue to do so."
The Prime Minister also recited a poem written by former Prime Minister Atal Bihari Vajpayee on the completion of one year of Emergency wherein he longed for the end of restrictions and return to freedom. Vajpayee was in jail at that time. 
The imposition of the Emergency had evoked a nationwide outrage and a mass movement which forced Indira Gandhi to lift it in less than two years. 
Modi said the Emergency was the resistance movement in which the "champions of democracy" came together and fought a prolonged battle to safeguard the democratic values. This legacy, Modi said, must be kept alive.
"The believers of democracy fought a prolonged war, and the great nation that India is, where the spirit of democracy pervades the very being of all its people, the strength of that spirit was demonstrated when the opportunity of elections came. We have to further fortify that legacy," Modi said.