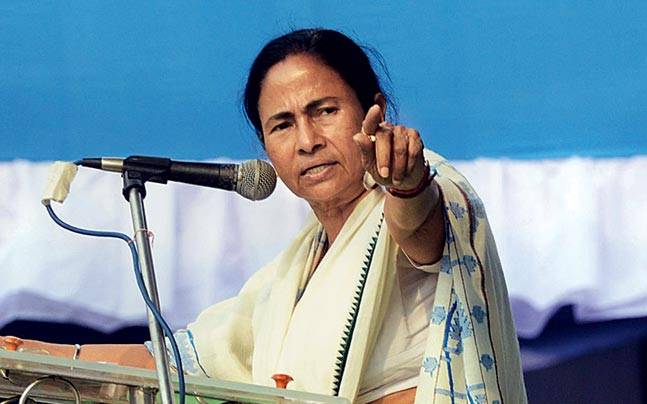 After Jammu and Kashmir Chief Minister Mehbooba Mufti, West Bengal CM Mamata Banerjee has also raised concerns over China with the Centre, accusing the neighbouring country of interfering in the state. 
The Indian Express, in its report, cited sources saying that Mamata discussed the issue with Union Home Minister Rajnath Singh in at least five telephonic conversations. 
The West Bengal CM wrote a letter to Rajnath Singh last week in which she made it clear that the state government had never refused additional forces from the Centre to handle the ongoing protests in Darjeeling.
She also highlighted "the strategic importance" of the area known as 'Chicken Neck' in West Bengal, which is a narrow stretch of land that connects India's northeastern states to the rest of India. 
"The area is very important geo-politically. It connects Bhutan, Nepal, Bangladesh, Sikkim, Darjeeling hills, Northeast India and the rest of India. It will be a great cause of concern if China is found to be influencing the unrest in Darjeeling. In terms of the country's foreign policy with these countries which border Bengal, the state government must be made a party by the Centre," an official in the state Home Department was quoted by The Indian Express as saying. 
Earlier, the Trinamool Congress had also raised concerns over China's "growing interference" in Bengal. Last week, in an indirect reference to China, party general secretary and Parliamentary Affairs Minister Partha Chaterjee had said, "There has been support from foreign lands to the unrest in the hills, and we have definite proof of that."

Talking about the controversy over Central forces, Mamata said, "There is no question of not taking forces from the Centre. The issue doesn't pertain to just Bengal but the entire country. But when we speak of forces, we are given reasons such as that the forces are needed elsewhere."

On Saturday, Mehbooba Mufti, in her meeting with Rajnath Singh, blamed 'external forces' for creating trouble in the state. 
"Kashmir issue is not a law and order problem. It is happening because of external forces. The ongoing fight is a handiwork of external forces and now unfortunately China is also trying to meddle into it," Mehbooba told reporters emerging from the meeting.

 

Earlier, China, the all-weather ally of Pakistan, had said that it was 'willing to play a constructive role in improving relations between India and Pakistan'. Terming India and Pakistan important South Asian countries, Beijing had noted that the 'situation in Kashmir has attracted the attention of the international community'.