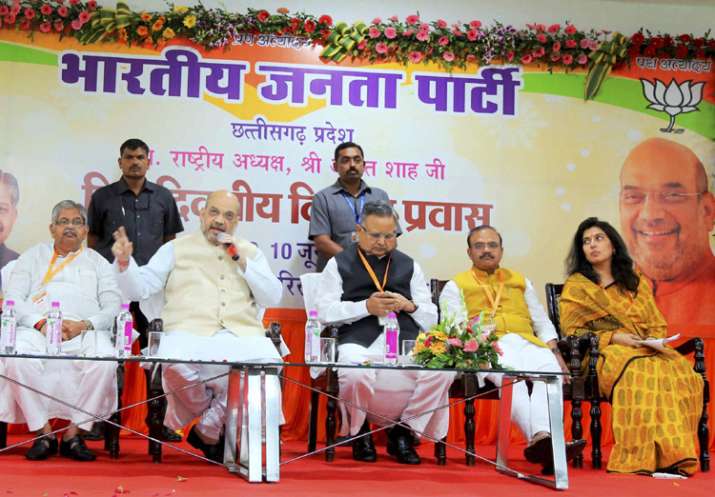 Describing the Congress as a "special purpose vehicle" to secure freedom, BJP President Amit Shah on Friday said Mahatma Gandhi, a "bahut chatur baniya," knew that the party was without any ideology or principle and that is why he wanted its disintegration after the independence. 
Speaking to a gathering of "eminent persons" of Chhattisgarh, Shah said, "Congress kisi ek vichaar dhaara ke adhaar par, kisi ek siddhant ke adhaar par bani hui party hi nahi hai, woh azadi prapt karne ka ek special purpose vehicle hai, azadi prapt karne ka ek saadhan tha. (The Congress is not a party based on one ideology or one principle, it is a special purpose vehicle to gain independence)."  
He further said, "Aur isi liye Mahatma Gandhi ne durandesi ke saath, bahut chatur baniya tha woh, usko maloom tha aage kya hone waala hai, usne azadi ke baad turant kaha tha, Congress ko bikher dena chahiye. (This is why Mahatma Gandhi with foresight, he was a very clever baniya, he knew what was going to happen, he said immediately after independence that the Congress should be dissolved)."   
"Mahatma Gandhi ne nahi kiya, lekin ab kuch log usko bikherne ka kaam samapt kar rahe hain. Isliye hi kaha tha Mahatma Gandhi ne, kyunki Congress ki koi ideology hi nahi thi, siddhanto ke aadhar par bani hui party hi nahi thi. Desh chalaane ke, sarkar chalaane ke koi siddhant hi nahi the (He didn't do it, but some people are now completing the job of dissolving it. He had said this because the Congress had no ideology, was not formed based on a principle, and did not have any principle to run the country or government," the BJP President was quoted as saying by the Indian Express. 
Amit Shah also drew a contrast between the BJP and the Congress saying that the Bhartiya Janata Party was clear in its approach and had no 
hesitation in saying that "whoever raises anti-national slogans will be called an anti-national." 
Shah hit out at the Congress for the lack of internal democracy and said that out of the 1650 political organisations in India only two parties, BJP and CPI(M) have inner democracy.
Shah applauded Chief Minister Raman Singh for bringing out the state from the "BIMARU" tag and said that a fourth term for the BJP government in the state was in the offing.
The BJP chief is on a three-day visit to the BJP-ruled state, and has asked party leaders to aim for almost a three-fourths majority in the next year's Assembly elections. BJP, in power in Chhattisgarh since 2003 under the leadership of Chief Minister Raman Singh, it is now eyeing a fourth consecutive term.
Congress demands apology from Shah, Modi for remarks
The Congress on Saturday took strong exception to Amit Shah's comments on Mahatma Gandhi, saying they were an "insult" to the father of the nation, and demanded an apology from the BJP president as well as Prime Minister Narendra Modi.
"Rather than fighting casteism, they (BJP) identified even the father of the nation with his caste. This shows the character and ideology of the ruling party and its president. Where will these people take the country?" party spokesperson Randeep Surjewala asked.
"We demand that Amit Shah, BJP and Prime Minister Narendra Modi apologise to the country, the families of freedom fighters and every citizen for insulting the freedom movement... And the father of the nation," he said.
"Amit Shah, who himself is a trader of power, is today saying that the freedom movement was a business model. But in reality, before independence, Britishers used RSS and Hindu Mahasabha as a special purpose vehicle (SPV) for partition of the country," Surjewala alleged.
"Similarly, today BJP is acting as a SPV for few corporates for taking care of their business interests," the Congress spokesperson added.
According to the Congress leader, Shah's remarks were "an insult to freedom fighters, their sacrifices and also to Gandhi".