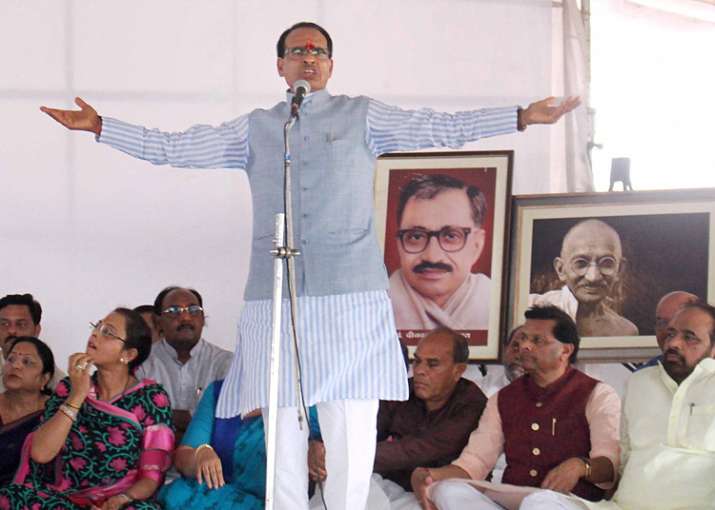 As Madhya Pradesh Chief Minister Shivraj Singh Chouhan on Saturday launched an indefinite fast for peace, Congress leader Jyotiraditya Scindia will sit on a 72-hour-long 'satyagraha' from June 14 to protest against the "anti-farmer policies" of the BJP government. Scindia will also visit Mandsaur on June 13 to meet the family members of the farmers killed in police firing on Tuesday, a party spokesman said yesterday. 
"Scindia will sit on a 72-hour long 'satyagraha' from 3 pm on June 14 at T T Nagar Dussehra Maidan in support of the farmers, who are holding protests across the state," Congress spokesman Pankaj Chaturvedi said. 
Scindia, Congress' chief whip in Lok Sabha, will reach Indore on June 12 and meet the farmers, who were injured in the police firing at Mandsaur. 
The injured farmers are undergoing treatment at Indore's MY Hospital. 
"He will visit the villages, including Badwant, Lodh, Khanduriya Kachan, Thakarawad, Chillod Pipliya (all in Mandsaur district), Barkheda Punch and Nayakheda (both in Neemuch district) to meet the family members of those killed in police firing," Chaturvedi added.
Chouhan on indefinite fast, farmers stir to continue 
Madhya Pradesh Chief Minister Shivraj Singh Chouhan, who is facing an agrarian unrest in the state, will continue with his fast for the second day at Dussehra Maidan in Bhopal.
Chouhan launched the indefinite fast yesterday with an appeal for peace. The opposition Congress dismissed the fast as mere "drama". Chouhan also met farmer leaders, but failed to reach a compromise. 
Clad in a kurta-pyjama and a Nehru jacket, with wife Sadhana on his side, Chouhan began his fast around 11 am at a 'pandal' erected in the BHEL Dusshera Maidan in the heart of Bhopal. Former chief minister Kailash Joshi put a 'tilak' on his forehead. 
Chouhan, under attack over the agitation during which five farmers were killed in a police firing, said the government stood firm with the farmers. "I will not end my fast till peace is restored in the state," Chouhan said in the evening. 
The chief minister added that he met 15 delegations of small farmers and 236 panels of big farmers through the day. The delegations pressed for loan waiver and "satisfactory" prices for their produce. 
No major violence was reported from the state and curfew was lifted from three of the four police station areas in Mandsaur district, the epicentre of the farmers' agitation. 
Farmer leaders, however, asserted that they will continue the agitation till their demands, including loan waiver and better price of their produce, are met. Earlier, they had said that the stir will last till June 10. 
The western Madhya Pradesh districts, especially Mandsaur remained peaceful today following which authorities decided to lift the curfew from all the three police station areas of the Mandsaur city. 
However, prohibitory orders under section CrPC 144, which bans assembly of more than four persons, will remain in force in the district. 
The curfew will remain in Pipliamandi police station area, 15 kms from Mandsaur district headquarters. 
The district administration also said the internet services in the district, which were suspended on June 5 after out break of violence, will be restored by tomorrow morning. 
In Mandsaur district, the curfew, which was imposed after five people were killed in police firing during a farmers' protest on June 6, was relaxed for 12 hours, from 8 am to 8 pm, in five police station areas of the district.
Chouhan's fast a 'nautanki', says Congress 
The Congress dubbed Chouhan's fast as mere "nautanki" (drama). 
"Chouhan should tell people whether his so-called fast was a 'nautanki' or an act of repentance for his misdeeds that set the state on fire," state Congress chief spokesman K K Mishra told PTI. 
"Though he is trying to send a message that he is doing 'Gandhigiri' (Gandhian way of protest), it is not so. He neither sat beneath the statue of 'Bapu' nor garlanded Mahatma's statue before launching his 'nautanki'. 
"After all, against whom has he started his fast at Dussehra Maidan? He should remember that (demon king) Ravana is burnt every year at the Dussehra Maidan. His Nautankibaji won't work as he has done such drama in the past against the UPA-2 government," he said. 
The Congress also sought imposition of central rule in Madhya Pradesh, saying that the state was in turmoil.