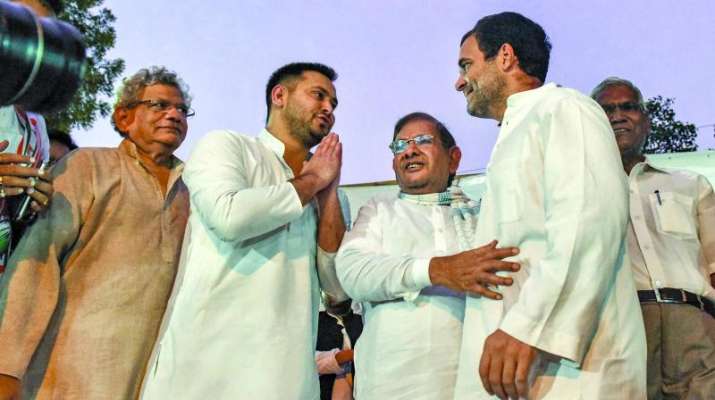 Cracks seem to have appeared in the Mahagathbandhan in Bihar ahead of upcoming Lok Sabha elections as seat-sharing has become a contentious issue between RJD and Congress. 
According to media reports, Congress is seeking to contest 16 Lok Sabha seats in Bihar and has conveyed to the RJD that  it would not settle for less than 12 seats. 
At present, the Grand Alliance in Bihar comprises the Congress, the RJD, the Rashtriya Lok Samta Party (RLSP), Mukesh Sahni's fledgling outfit, the Vikassheel Insaan Party (VIP), former chief minister Jitan Ram Manjhi's Hindustani Awam Morcha (HAM) and veteran socialist leader Sharad Yadav's Loktantrik Janata Dal (LJD).
It is pertinent to mention that RJD is the pivot of the "Mahagathbandhan" in Bihar and hence, Lalu Yadav's approval in finalising the allocation of seats is required.
According to the reports, RJD is also considering an alternative plan, wherein it might ask smaller constituents of the grand alliance to be prepared for an alliance without the Congress party. 
If political analysts are to be believed, even in the past, the RJD was comfortable with the idea of Congress contesting elections on its own so that it could eat into upper caste votes that have largely fallen into the BJP's kitty, of late.