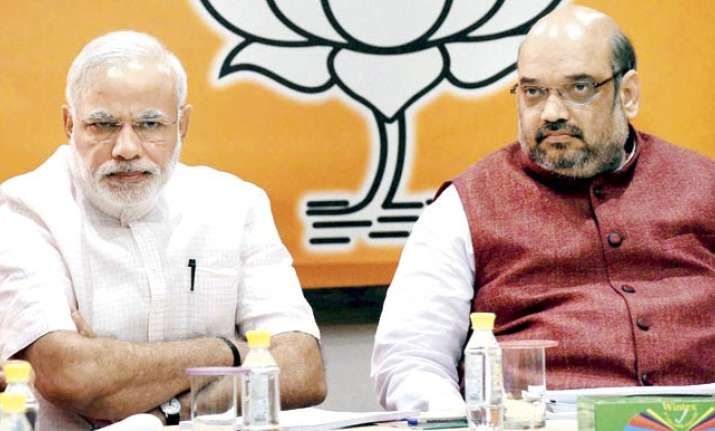 When the Bharatiya Janata Party (BJP) stormed into Parliament four years ago it did not require any allies to form the government as Narendra Modi's charm and Amit Shah's brains managed to secure 282 seats, way over than the half-way mark of 272. 
Nevertheless, the party stuck to its promise with allies in National Democratic Alliance (NDA) and formed a government with strong 336 Lok Sabha MPs on its side - a decision that will pay off now. 
On a losing streak since 2014 general elections, BJP has been defeated in 14 of the 16 Lok Sabha bypolls contested since, the latest being the most significant loss. On Wednesday, BJP candidates were defeated in its bastions Gorakhpur and Phulpur in Uttar Pradesh. The seats were vacated by UP CM Yogi Adityanath and his deputy Keshav Prasad Maurya. The party also lost  Lok Sabha bypolls on Araria seat in Bihar. 
With the latest drubbings, BJP has dropped to just 274 in the lower house. However, along with NDA allies, the party has a big majority in the Lok Sabha, making it necessary for it to keep them happy. 
In the current political climate, it is easier said than done. 
Also read | It's 14 losses, 2 wins since 2014 elections for BJP: Saffron party's losing streak continues in Lok Sabha bypolls except victory in Vadodara, Shahdol
BJP's biggest partner in NDA, Shiv Sena has announced that it will contest 2019 Lok Sabha elections alone. Party chief Udhhav Thackeray and its periodical Saamana have been BJP's most vocal critic since. If Shiv Sena exits from NDA, the ruling alliance's tally will drop by 18.
Telugu Desam Party (TDP), which has 16 Lok Sabha seats, recently threatened to end the alliance over Modi government's failure to allot Andhra Pradesh a special category status. 
"We have decided to pull out of the Union government, because the Centre has failed to meet the demands of the TDP on special status for Andhra Pradesh, which was promised at the time of bifurcation, and other demands relating to the state's finances," Chief Minister N Chandrababu Naidu told the media on March 7. Next day two Central ministers resigned from the Cabinet. 
BJP leaders, however, managed to persuade TDP to stay put in the alliance after hefty negotiations and counselling. 
Also read | Alliance with BJP still on, but will fight for Andhra Pradesh's rights: Telugu Desam Party
BJP also faces the threat of strained relationship with Ram Vilas Paswan's Lok Janshakti Party, which has six seats in Lok Sabha. BJP's aim to bring LJP in the fold was to get the caste equation right. But after Nitish Kumar's return to NDA in Bihar, equations may change within the NDA as strains have started to appear.
A much smaller ally, the Hindustani Awam Morcha-Secular (HAM-S) of former Bihar chief minister Jitan Ram Manjhi, has already pulled out of the alliance and is likely to join hands with the Grand Alliance in the state. 
Apart from TDP, Shiv Sena and HAM-S, the BJP is also not on the best of terms with Shrimoni Akali Dal (SAD) in Punjab. The Badals have expressed their dissatisfaction with BJP on more than one occasion, especially after the alliance faced defeat by Congress in the last assembly elections. 
Also read | Jawans dying in Pakistani firing, but govt talking of 'pakodas': Shiv Sena
With 48 partners, NDA's current tally stands at 330. 
TDP, Shiv Sena, LJP and SAD are four biggest NDA partners after BJP and have 44 Lok Sabha seats between them. If they decide to walk out, it may get difficult for BJP to keep smaller parties happy. 
More importantly, losing these allies right before 2019 Lok Sabha polls will spell trouble for the saffron party. 
BJP's only hope right now is to win back sour allies and mend old bonds with other regional parties to bring them into the fold and stop them from joining anti-BJP front, being crafted by Congress-led UPA. 
One such effort has been a resounding success in Bihar. Despite difference that led to fallout in 2013, PM Modi and Amit Shah were able to woo Janata Dal United leader Nitish Kumar back into the NDA. Although Kumar only brings two Lok Sabha seats to the table, his clean and development-oriented image in Bihar is likely to help the alliance in the long run.