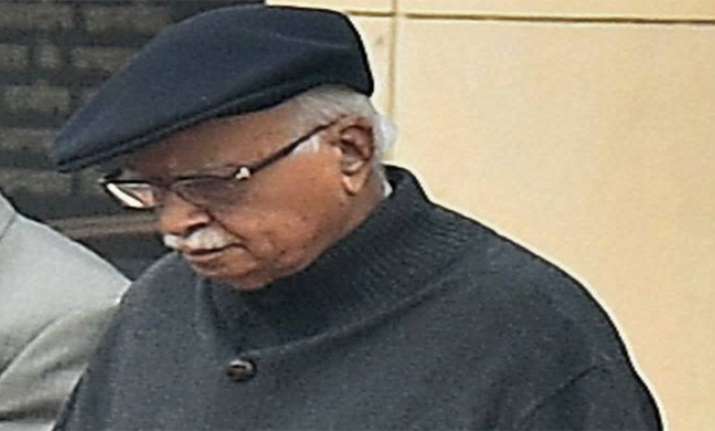 Miffed over the continuing impasse in both houses of Parliament over the government's demonetisation move, senior Bharatiya Janata Party functionary L K Advani has said that he felt like resigning as a result of his disappointment with the dysfunctional Parliament.  
"Parliament disruptions are so disappointing that I wonder if I should resign from Lok Sabha," Advani was heard saying. 
With the Winter Session of Parliament ending tomorrow, both houses have seen virtually no transaction of legislative business due to the continuing standoff between the opposition and treasury benches over the Centre's move to outlaw higher denomination notes.
The leaders of 15 different opposition parties have decided to march from Parliament to the Rashtrapati Bhawan tomorrow to meet with President Pranab Mukherjee and apprise hime of the hardship faced by common man after demonetisation.
The Parliament erupted in protests on Thursday as it increasingly looked like the winter session is heading towards a washout.
So far, the government refused to accept a debate followed by a vote; the opposition insisted that PM Modi must explain his reform, intended at uncovering black money and punishing its owners.
The Kiren Rijiju controversy once again echoed in the Upper House today with Congress leader Anand Sharma giving notice for discussion on the Union minister's alleged involvement in a hydro power project scam in Arunachal Pradesh. 
Here are the highlights
He said "what is going on,I have never seen this kind of scenario in Parliament; there should be discussion,I feel like resigning":Idris Ali pic.twitter.com/xqH9OZEvuZ

— ANI (@ANI) December 15, 2016
When I inquired about his (LK Advani) health, he said my health is okay but the Parliament's health is not: TMC MP Idris Ali pic.twitter.com/OMmAQNJxP4

— ANI (@ANI) December 15, 2016
Advani ji said "Koi jeete yaa haarey, iss sab hungame se sansad ki haar ho rhi hai,speaker se baat karke kal charcha honi chahiye":Idris Ali

— ANI (@ANI) December 15, 2016
LK Advani told me that he feels like resigning, adding "had Atal ji been in the Parl today, he would have been upset": TMC MP Idris Ali

— ANI (@ANI) December 15, 2016
Ek din to House theek se chala lo
LK Advani was heard saying
'Parliament disruptions are so disappointing that I wonder if I should resign from Lok Sabha': Advani
Senior BJP leader LK Advani expressed his displeasure over the way Parliament is functioning
Uproar in the Lok Sabha over demonetisation
Lok Sabha adjourned till tomorrow
Rajya Sabha is adjourned till 2 pm
Rajya Sabha is again adjourned for 30 minutes
The Rajya Sabha is adjourned till 12 noon
The government is anti-farmer. I have given notice to discuss about the plight of the farmers: Ghulam Nabi Azad
We want discussion on Congress' corruption: Mukhtar Abbas Naqvi, Union minister
This is the first time that it is the ruling party, which is disturbing the House: Ghulam Navi Azad
Uproar in the Rajya Sabha after deputy chairman allows Leader of Opposition Ghulam Nabi Azad to speak
Lok Sabha adjourned till 12 noon
Whatever party you may be from, you are responsible MPS
Uproar in Lok Sabha
Minutes after the Lok Sabha session started, members started raising slogans
PM Modi meets senior ministers
Venkaiah Naidu, Nitin Gadkari, Ananth Kumar and Manohar Parrikar are present in the meet.
Congress leader Ghulam Nabi Azad gives notice in the Rajya Sabha on "hardships faced by farmers due to demonetistion"
BJP to raise AgustaWestland issue in both the Houses of Parliament today: ANI
Rahul Gandhi on Thursday alleged that he has detailed information about "personal corruption" by Prime Minister Narendra Modi which he wants to present in Lok Sabha but is not being allowed to do so by the PM. 
Asked what kind of information he has, the Congress Vice President said, "That information is personal information about Narendra Modiji which I want to state in Lok Sabha. It is personal corruption of the Prime Minister that we have detailed information about. We want to present it, which the Prime Minister is not allowing us to speak." 
However, BJP has termed Rahul's allegations as biggest joke of the year.
Asked to respond to Rahul's statement, Union minister Kiren Rijiju termed the remark as the "biggest joke" of the year
"Everybody feels that it is the biggest joke of the year that Rahul Gandhi says Narendra Modi is scared of his oratory skill. If he speaks will there be an earthquake or the balloon will burst.