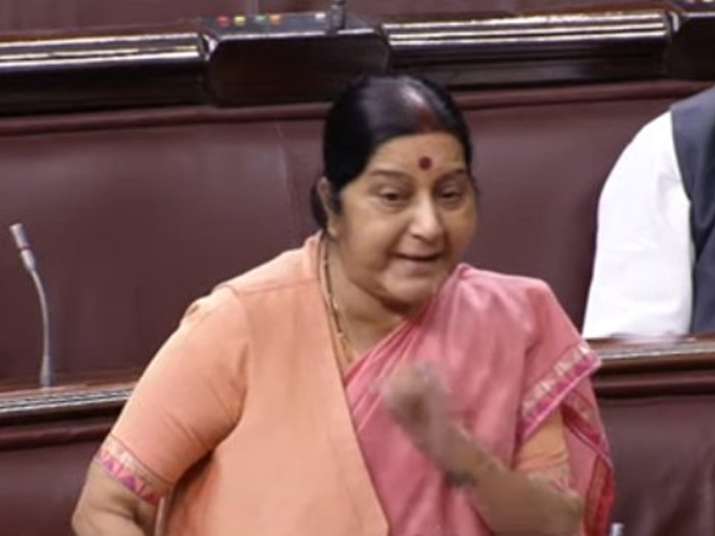 India today warned Pakistan that bilateral ties will be hit if it went ahead with the death sentence awarded to former naval officer Kulbhushan Jadhav.
"The government and people of India would view very seriously the possibility that an innocent Indian citizen is facing death sentence in Pakistan without due process and in violation of basic norms of law, justice and international relations," External Affairs Minister Sushma Swaraj told the Rajya Sabha.
The Minister added that the Indian government 'will go out of the way to save him (Jadhav)'.
"I would caution the Pakistan government to consider the consequences for our bilateral relationship if they proceed on this matter."
She reiterated India's stand that Jadhav, who was arrested in March 2016 from the restive Balochistan province and accused of espionage and waging war against Pakistan, has been framed under false charges.
She said that Pakistan was doing all that to divert global attention from its activities of sponsoring terrorism in India.
"There is no evidence of any wrongdoing by Kulbhushan Jadhav. He is the victim of a plan that seeks to cast aspersions on India to deflect international attention from Pakistan's well known record of sponsoring and supporting terrorism. We have no choice but to regard this sentence if carried out as an act of premeditated murder," she said.
Opposition offers support 
Leader of Opposition in the Rajya Sabha, Ghulam Nabi Azad, appealed to the government to appoint a strong lawyer who can fight Jadhav's case in the Supreme Court of Pakistan.
"This is a matter of the entire nation. I appeal to the government to appoint a competent lawyer to fight his case in Pakistan's Supreme Court. So that his case is won in the apex court," Azad said.
The Minister assured the House that the government will appeal to the Supreme Court of Pakistan and would also petition the President of the country to 'save the son of the nation'.
"Not just the Supreme Court... We will do everything possible to save him. Appealing in the Supreme Court or appointing a lawyer for him is a very small thing. We will even approach the President of Pakistan to save him," Swaraj added. 
Lok Sabha unites to condemn Pak
In the Lok Sabha, MPs unanimously condemned Pakistan's decision. Raising the matter during Question Hour, Congress leader Mallikarjun Kharge said if Pakistan hangs Jadhav it will be a 'pre-planned murder'.
"No one was allowed to meet Jadhav. He was not even provided a lawyer to fight his case. No international norms were followed. If Jadhav is hanged, India should have the courage to retaliate in the same way," Kharge said.
According to Kharge, if Prime Minister Narendra Modi can visit Pakistan without any invitation, why cannot he go to talk over the issue of Jadhav.
"The government should take every step to save Jadhav. If he can't be saved, it will prove this to be a weak government," Kharge said.
Parliamentary Affairs Minister accused Kharge of doing politics over the issue.
"You should not do such a low politics over the issue," Kumar said.
BJP member Nishikant Dubey demanded a resolution be passed in the House to declare Pakistan a terrorist nation.
He said that India has cornered Pakistan on the issue of terrorism and that is the reason the neighbouring country is trying to demean Indian.
Who said what: 
* The government condemns the sentence handed by Pakistan. I would like to assure the House that whatever needs to be done to provide justice to Jadhav, we will do. Pakistan ignored 'basic norms of law and justice' in sentencing Jadhav. Jadhav was produced as an Indian spy in front of the Pakistani media: Rajnath Singh, Union Home Minister 
Pakistan has said a valid Indian passport has been found from Jadhav. If he was having a valid passport, how can he be a spy? This question does not arise: Rajnath Singh 
* India should do everything to save Jadhav. The military court of Pakistan, which has given death sentence to Jadhav is a banana court as it takes decision without any evidence. India should use every international forum to save him: Asaduddin Owaisi, MP, AIMIM
* Pakistan's action is an assault on international laws, violation of Geneva convention: Shashi Tharoor, MP, Congress 
* Pakistan is taking vindictive action against India and Indians. The government should take every step to save the life of Jadhav: Saugata Roy, MP, TMC 
* Pakistan is not a normal nation. It is run by the military establishment and they are deliberately trying to destabilize our country by such acts: BJ Panda, MP, BJD
* Pakistan judiciary playing to the gallery. Contrast Jadhav's trial with our treatment of Kasab: Konda V Reddy, MP, TRS
* No civilised country denies legal help to an accused person: NCP leader Tariq Anwar
* Pakistan has challenged India by sentencing Jadhav to death. New Delhi's 'Pakistan policy is weak': Naresh Agrawal, MP, Samajwadi Party
* The issue is very serious. India must convey it to Pakistan in strongest terms: AK Antony, MP, Congress