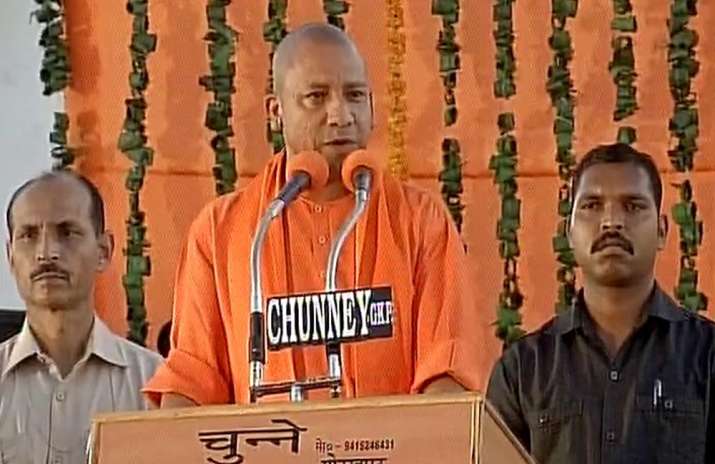 Newly appointed Chief Minister of Uttar Pradesh Yogi Adityanath today arrived Gorakhpur, the constituency that had sent him to parliament five times in a row, for a two-day visit. The 44-year-old was given a heroic welcome be the people of his Lok Sabha constituency.
In his first public speech after swearing-in as the 21st Chief Minister of Uttar Pradesh, Yogi Adityanath on Saturday said that his government will work for the development of the state and there will be no discrimination sponsored in the name of caste, religion and sex.
"There will be no discrimination in name of caste, religion and sex. There will be overall development," Adityanath said in his address at the Maharana Pratap Inter College here.
Na jaati, na mazhab, na ling ke naam par koi bhedbhaav hoga. Vikaas sabka hoga. Kisi ka tushtikaran nhi hoga: UP CM Yogi Adityanath pic.twitter.com/WtpKeVibdt

— ANI UP (@ANINewsUP) March 25, 2017
Lauding Prime Minister Narendra Modi, Adityanath said that the former has entrusted him with the responsibility to make the dreams of the state true. 
"We will follow "sabka saath, sabka vikas" mantra of PM Modi," Yogi Adityanath said, adding that there will be no attempt to "appease" any section of the population.
"Prime Minister Modi's development programmes are being made available to all the citizens. He had laid foundation for a fertilizer company and AIIMS hospital. Now we are confident that the population of the state will not feel left out. He wants that every citizen must get benefit from the schemes of the government," he added.
He also claimed that the newly formed BJP government will fulfill all promises made in the election manifesto.
"Uttar Pradesh has been deprived till now, but it won't be neglected now," Yogi said.
Vowing to curb corruption in the state, Adityanath said they will show as how the government works and performs.
"Gorakhpur has been a laboratory for all such criminal activities. People would get scared if you told them you were from Gorakhpur. But now safety will be guaranteed. We want your support. Your support will be my strength to ensure law and order and safety here," he said. 
Adityanath also announced a government subsidy of Rs 1 lakh for healthy pilgrims who want to go on the Kailash Mansarovar Yatra.
Jo log Kailash Mansarovar ki yaatra karna chahte hain, agar wo swastha hain un ko humlog Rs. 1 lakh ka anudaan denge: UP CM Yogi Adityanath pic.twitter.com/ZmiFa0qiCA

— ANI UP (@ANINewsUP) March 25, 2017
Lucknow, Ghaziabad ya Noida mein se kisi ek sthaan par Kailash Mansarovar bhavan ka nirmaan karenge: UP CM Yogi Adityanath pic.twitter.com/WZCyjwpJL3

— ANI UP (@ANINewsUP) March 25, 2017
Reiterating his government's crackdown on illegal animal slaughter, CM Yogi said promised to remove all illegal slaughterhouses from the state. He also ensured safety to all the women across the state.
On reports of young boys and girls being harassed by moral police in the name of 'anti-Romeo squad', Adityanath said, "Making it clear to the administration that people on roads standing, interacting with consent should not be troubled".
We have made anti Romeo squadS in Uttar Pradesh active. Girls and boys on roads together should not be troubled if its with consent: UP CM pic.twitter.com/qwl0CJFDDH

— ANI UP (@ANINewsUP) March 25, 2017