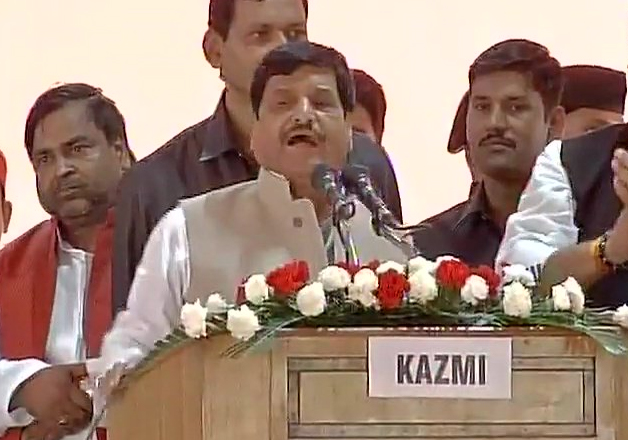 The ruling Samajwadi Party in Uttar Pradesh, where assembly polls will be held early next year, is celebrating its silver jubilee foundation day here. Leaders from 'third front' are also present at the event.
Live Updates: 
* UP government has done impressive work during its tenure, we are a party and government for the poor: Mulayam Singh Yadav
* Challenges are overcome by unity, says JD(U) leader Sharad Yadav 
* There is no rift in Samajwadi Party: Lalu 
* BJP govt is stifling democracy: Lalu Prasad Yadav
What is the use of a 56 inch chest when you are not able to control the situation in J&K for so many days?: Lalu Yadav pic.twitter.com/X7mr5pXMyd

— ANI UP (@ANINewsUP) November 5, 2016
* I am ready for any test to prove loyalty, says Akhilesh 
BJP govt is dividing people. Our aim is to defeat BJP, BSP: Akhilesh
* Next year's elections will decide the fate of the country: Akhilesh Yadav
* ​There is no rift in the party, and all of us will fight the elections on the party's symbol 'cycle': Akhilesh 
* I congratulate Netaji for raising this party and making it sturdy through struggle and hard work, says UP CM Akhilesh Yadav
Aapne mujhe talwar bhent ki hai, aur talwar doge toh chalayenge hi: UP CM Akhilesh Yadav in Lucknow pic.twitter.com/BO78ojTqFI

— ANI UP (@ANINewsUP) November 5, 2016
* During ten and a half months of my tenure as Prime Minister and Mulayam Singh as defence minister, Jammu and Kashmir was completely peaceful. Section 144 (CRPC) was not imposed in Jammu and Kashmir even for a single day (during our rule). But look at what is happening in Jammu and Kashmir since the past five months: Deve Gowda
* Samajwadi Party is a landmark party to face communal forces. Senior leaders Mulayam Singh Yadav, Lalu (Prasad Yadav), Sharad (Yadav) should come together and go united to fight communal forces in the country: Deve Gowda 
* I strongly believe the secular forces will come together under the leadership of Mulayam. There is some friction within SP. I ask SP to stay united and lead the tirade against communal forces in the country: Deve Gowda
* Samajwadi Party will form the next government in UP, says INLD leader Abhay Chautala
* Some persons get things due to their fate and other work had and don't get their due. Some person indulge in sycophancy and get benefits of government but those who made sacrifices are sidelined: Shivpal 
We have to take everyone along. Post (in the government) did not matter. We are followers of Ram Manohar Lohia and will follow his ideals: Shivpal
* Some intruders have entered (in the party) and are creating atmosphere (of differences)...You (Akhilesh) can insult me anytime...What you want from me just tell me and I will not say anthing...But whenever question of netaji (Mulayam) arise, I myself, the entire party will take a stand and not tolerate. I have to stay with netaji: Shivpal
* I want to tell popular CM Akhilesh that whatever sacrifice you want from me, I will give. I never want to become CM. You can insult me, sack me many times (as minister) but I can even give my blood for the party: Shivpal Yadav to Akhilesh. 
Mulayam Singh ji ki party or unki sarkar ka ye vidaayi utsav hai: Uma Bharti on SP Silver Jubilee function pic.twitter.com/WuS4gjBrwH

— ANI UP (@ANINewsUP) November 5, 2016
* You (CM) have done a good job. But I have also done a good job in past four years in the ministries given to me. You can verify works done by me in PWD, irrigation, Revenue, Cooperative and others departments
* It is because of Netaji's (Mulayam Singh Yadav) struggle and the risks he took that SP was able to form govt in UP not once but thrice: SP's Uttar Pradesh unit chief Shivpal Singh Yadav
#WATCH: Samajwadi Party Rajat Jayanti program underway in Lucknow, Uttar Pradesh. pic.twitter.com/Jp5drdrRYj

— ANI UP (@ANINewsUP) November 5, 2016
Lucknow: SP supremo Mulayam Singh Yadav reaches at the venue of SP Silver Jubilee function, UP CM and Shivpal Singh Yadav also present pic.twitter.com/4JLlbwStsW

— ANI UP (@ANINewsUP) November 5, 2016
* There are no talks of coalition now. Mulayam Singh Yadav can tell better. SP is the bigger party here. Talking much on this will not be appropriate at this time: JD(U) leader Sharad Yadav 
UP CM Akhilesh Yadav and Senior JDU leader Sharad Yadav at Samajwadi Party Rajat Jayanti program in Lucknow pic.twitter.com/Bh1IrJcV6S

— ANI UP (@ANINewsUP) November 5, 2016
* We are not in field here. A situation might arise after UP, Gujarat and Punjab polls. We are here to attend silver jubilee celebrations on the invitation of SP: Former prime minister HD Devegowda on possibility of a coalition
We are here to strengthen SP. We have chased away BJP in Bihar. Just like 'geedad' (jackal) is chased away we will chase away BJP from UP too: RJD supremo Lalu Prasad Yadav
Lalu Yadav arrives for Samajwadi Party Rajat Jayanti program in Lucknow pic.twitter.com/Oo0ozRecUt

— ANI UP (@ANINewsUP) November 5, 2016