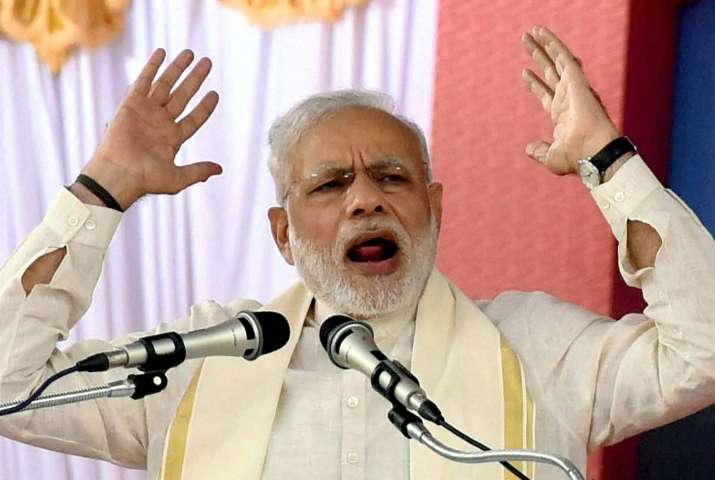 Prime Minister Narendra Modi on Saturday challenged Pakistan to a war, but not a war on each other but a war on poverty, unemployment, illiteracy and infant mortality. 
Directly addressing the people of Pakistan, Modi said in his first speech after Uri attack, ""I want to say that India is a ready for a war… India is a ready for a war on poverty. Let both countries fight to see who would eradicate poverty first… I want to tell the youth of Pakistan, let's have a war on ending unemployment… I want to call out to the children in Pakistan, let's declare war on illiteracy. Let's see who wins. Let's declare war on infant mortality and maternal deaths." 
Modi, who had triggered a debate after he referred to human rights violations in Balochistan in his Independence Day speech, once again mentioned the issue in his speech. 
Addressing people of Pakistan, Modi said, "I want to address the people of Pakistan today. Your rulers are misleading you by singing songs on Kashmir and reading out scripts written by terrorists on Kashmir. You should ask your leaders why India, which was created along with Pakistan, exports software and Pakistan exports terror… You should ask them why they were not able to handle East Pakistan, and why they cannot handle PoK, Gilgit, Sindh, Balochistan and Pakhunistan…?"
The PM said, "Pakistan's public should ask its leaders as to why despite getting Independence together what is the reason India exports software and Pakistan exports terrorism."
The Prime Minister added that a day would come when the people of Pakistan will go against its own country to fight against terrorism.
Launching a blistering attack against Pakistan, Modi warned its leadership that the Uri terror attack will not be forgotten and the sacrifice of 18 jawans will not go in vain.
In his first public address after last Sunday's deadly attack by terrorists from across the border, he said India will mount an all out offensive to isolate Pakistan diplomatically to expose its activities in exporting terror, killing of innocent people and spilling blood.
"Terrorists should hear out clearly that India will never forget the Uri attack.... I want to tell the leadership of Pakistan that the sacrifice of our 18 jawans will not go in vain," Modi told a largely-attended public meeting on the Kozhikode beach held on the sidelines of the BJP national council meet.
He held Pakistan directly responsible for the Uri attack saying the country exported terrorists there due to which 18 soldiers sacrificed their lives.
The Prime Minister said there is one nation in Asia whose aim is to spread terrorism and is working towards ensuring that the 21st century does not belong to Asia.
"Every nation is holding only one country responsible for terrorism. Only one country in Asia is safe haven for terrorists. This is the only country engaged in exporting terror across the world.
"Be it Afghanistan, Bangladesh or other nations, we have seen whenever the news of terror incidents comes, terrorists have either gone from this country (Pakistan) or have settled there after committing the crime," he said.