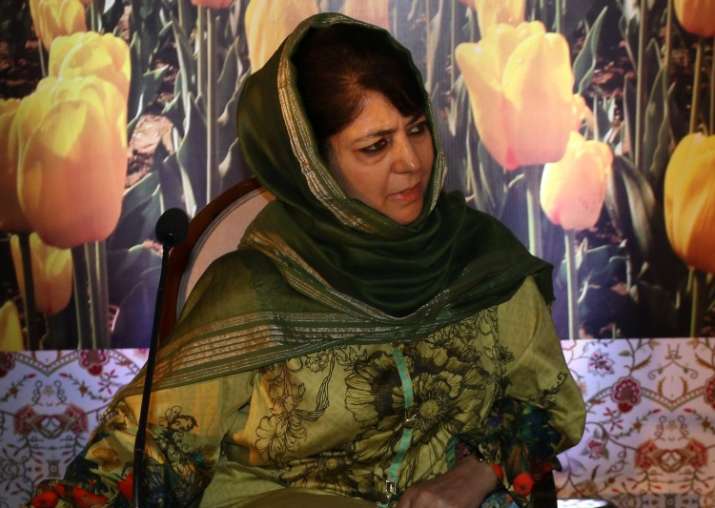 Jammu and Kashmir Chief Minister Mehbooba Mufti today slammed National Conference (NC) president Farooq Abdullah for suggesting the government to seek help from US and China to settle the decades-old Kashmir dispute with Pakistan. The PDP leader said that the 'situation in Kashmir will be same as Syria and Afghanistan if America starts intervening'. 
"Be it America or China, they should mind their own business. Wherever America intervened, you see (the situation in) Afghanistan, Syria and Iraq. China has its own vexing issue in Tibet. So, I think we
have a map here which is that we, India and Pakistan, have to talk even after war. We have to talk bilaterally and what can America, Turkey or England do with us?" Mehbooba told reporters at Anantnag in south Kashmir. 
The Chief Minister was responding to a question on Abdullah's suggestion of a third party mediation to resolve the Kashmir issue. Abdullah yesterday said India should take the help of 'friends' to resolve the issue. 
Mehbooba asked Abdullah whether he wanted the situation in Kashmir to be similar to what it was in countries like Syria, Afghanistan and Iraq where the US had intervened. "They have played spoilsport in major issues of the world. See what they have made up of Syria, see the situation of Afghanistan and Iraq. God forbid, does Farooq (Abdullah) want our situation similar to them? Or he wants our state to prosper?" the CM asked. 
She said that both India and Pakistan have to respect the agreements between the two countries to end the hostilities. "We should take forward Shimla and Lahore agreements the way our elder leaders like (former PM) Indira Gandhi and (former PM Atal Bihari) Vajpayee did. Everyday our soldiers and people die on border and the same happens (in Pakistan) as well. Some solution should come out for (ending) this and the solution will come only then when we, both the countries, respect these agreements," she said. 
The CM said that dialogue is imperative as the two countries face pressing development issues. "We have to sit together and end poverty, provide our people with electricity, water and employment. India and Pakistan have to talk to each other," she said.
Earlier, the US had said that instead of waiting until 'something happens', it would try and 'find its place in efforts to de-escalate strains between Pakistan and India'. Recently, China, the all-weather ally of Pakistan, had said that it was 'willing to play a constructive role in improving relations between India and Pakistan'. Terming India and Pakistan important South Asian countries, Beijing had noted that the 'situation in Kashmir has attracted the attention of the international community'.