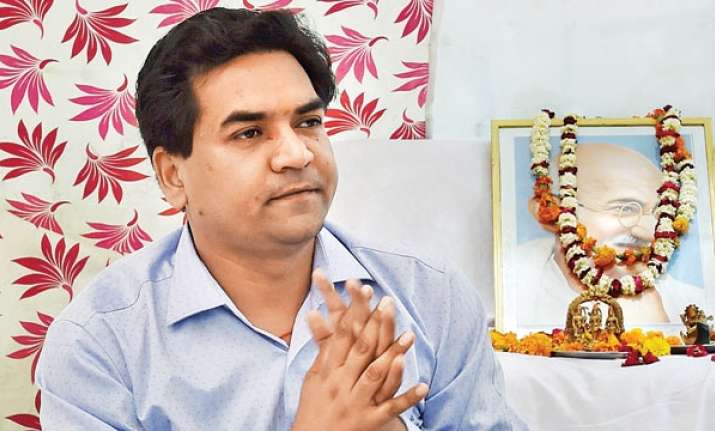 As sacked Aam Aadmi Party (AAP) minister Kapil Mishra hunger strike enters its third day, he today made public a letter from his mother to party supremo and Delhi Chief Minister Arvind Kejriwal. 
Mishra, who was removed as minister and then stripped of his party membership, has been on a hunger strike demanding that the Delhi government make public the details of the foreign trips of five prominent leaders of the party.
In the open letter, Mishra's mother Annapurna, a former BJP mayor, chided Kejriwal for "spreading falsehoods" about her son and for "outright lying". 
"How many lies, Arvind? Ultimately, how many?" she asked. The letter was posted on Twitter by her son Kapil Mishra.
"I never thought my son would ask you questions and you would avoid them," she wrote referring to Kapil's question to Kejriwal on how some AAP leaders, namely Satyendra Jain, Ashish Khetan, Raghav Chaddha, Sanjay Singh and Durgesh Pathak funded their foreign trips. 
"Whenever I met you, you always talked about probity in public life," she added. 
"Remember you came to my house and said to me - 'I want to take Kapil in the party and make him contest the election but he is not listening'. He only wanted to be part of a movement, but you came to me saying you need him," she says in the letter. 
माँ का पत्र @ArvindKejriwal के लिए pic.twitter.com/NFcJEevNXG

— Kapil Mishra (@KapilMishra_IND) May 12, 2017
Annapurna also expressed her disappointment that Kejriwal is standing silent while his "friends" are calling not just her son but her corrupt as well.
"I was the one who organised the first mohalla sabha in Delhi. In 2007. You too had come to that sabha, all your friends had come as well. There was no party then, nothing like that...You even talked in your book 'Swaraj' about how I work. Today, how far you've fallen," she writes. 
"These lies won't help you. Learn to fear God," she signs off.
Annapurna Mishra, first mayor of the East Delhi Municipal Corporation after Delhi's civic body was trifurcated, also criticised Kejriwal and other party leaders for allegedly circulating false pictures on social media where Mishra is seen sitting with Delhi BJP chief Manoj Tiwari.
"You were also there in the event from where pictures are being spread on social media by AAP's senior leaders. The event was in honour of Kumar Vishwas' father and almost all of your cabinet was also present. How many more lies, Arvind?," she wrote. 
Kapil later tweeted a few pictures from the event which had Deputy CM Manish Sisodia and AAP's Rajasthan convener Kumar Vishwas sharing the stage with Manoj Tiwari.
Mishra was suspended from the AAP after his startling allegation that he witnessed Kejriwal accepting Rs 2 crore in a dodgy transaction. 
Later, in an open letter to Kejriwal, he had challenged the Delhi CM contest elections against him.
"You are trying to remove me from the assembly, I challenge you to contest elections against me from any seat. Let's fight the election from my Karawal Nagar seat or even your New Delhi seat. If you believe that people are with you, then I'm ready to resign," Kapil had written.