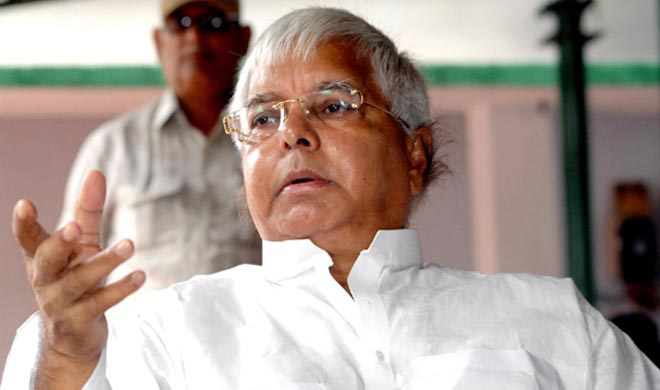 RJD supremo Lalu Prasad Yadav today asked the Nitish Kumar government in Bihar to provide 80 percent reservation to local youths of the state in jobs as well as admissions in educational institutions.
"Like other states namely Andhra Pradesh, Telangana, West Bengal and Kerala which have provision of reservation for their students, Bihar should also reserve 80 per cent for locals in state jobs and admission in educational institutions under state government control," Prasad told reporters here.
"I'll take up the matter with Chief Minister Nitish Kumar," the RJD president, whose party is a major partner in the grand secular alliance government in Bihar, said.
Prasad said a shortage of higher education insitutions in Bihar has forced students to move out to other states.
These students were deprived of employment due to local reservation in those states, he said.
He said that due to a lack of such provisions in Bihar, candidates from other states grabbed a majority of jobs of professor in technical colleges and universities in the state.
In an ongoing examination conducted by the Bihar Public Service Commission for Assistant Professor of English, 80 per cent candidates were from other states, Lalu said.
"In states like Kerala and West Bengal marking pattern in school and college examinations is different from Bihar due to which their students score high marks. In such a situation they grab a major portion of employment depriving students of Bihar from employment," he said.
Same was the situation in recruitment of lecturers in other subjects like Science and Philoshy, where almost 80-90 per cent of successful candidates were outsiders, he added.
The RJD chief also referred to a letter written by his aide and party MLA Bhola Yadav to Chief Minister Kumar drawing his attention towards a survey conducted by UIPI (US-India Policy Institute) which highlighted Bihar as a laggard state.
Four districts of Bihar were at the bottom economically in the country.
In the field of education, out of 20 districts at the bottom across the country, there were six districts from Bihar. Also in health, eight of Bihar districts were among 20 at the botton, he said.