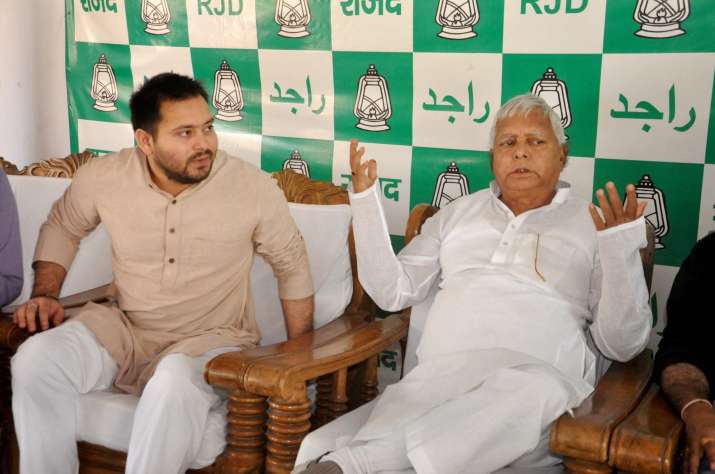 Five days after senior BJP leader Sushil Modi alleged that RJD chief Lalu Prasad Yadav owns benami property to the tune of Rs 950 crore in Patna, the latter on Sunday admitted that the two-acre land on which Bihar's biggest mall was being constructed, belonged to the company owned by his family. 
To a query on the ownership of the land on which the mall is coming up, Prasad said, "The land belongs to the company in which three persons namely Rabri Devi, Tejashwi Prasad Yadav and Tej Pratap Yadav are the shareholders." 
"Half of the share in the mall being built will be of the builder, while the remaining half will be that of the company," Prasad said. 
Defending his sons Tejashwi and Tej Pratap, who are both Bihar ministers and accused of graft, Lalu said that they are right to "do business because I don't want them to die in poverty".  
BJP leader Sushil Kumar Modi had on April 7 demanded that Chief Minister Nitish Kumar sack Lalu Prasad's two minister sons for allegedly getting benami properties worth Rs 750 crore transferred in their names. 
He had also alleged that soil from land owned by his family was sold to a zoo controlled by his ministry for Rs 90 lakh without any tender. 
Modi charged Lalu Prasad's minister-son Tej Pratap Yadav of giving contract of Rs 90 lakh for earth filling work in Sanjay Gandhi Biological Park located in the state capital. 
Yadav's department, under whose jurisdiction the Park falls, gave away the contract of Rs 90 lakh to a company without following the tender process for construction of a pathway and beautification work in the park, Modi alleged.
"Chief Minister Nitish Kumar should order a high level probe into the 'soil purchase scam' in which Tej Pratap Yadav is involved. CM should sack Yadav from his cabinet without making any delay," Modi said while talking to reporters here on the sidelines of 'Janata Darbar' at his official residence. 
Asserting that all the transactions with regard to transfer of shares have been done as per the laws, Lalu Yadav said the charges were a conspiracy to tarnish the image of his family. 
"All the allegations levelled against my family (wife and two sons) are baseless and absurd. All the transactions have been done in accordance with the relevant provisions of the laws concerned," sais Prasad. 
Taking a jibe at Lalu Yadav's admittance of owning the land and having 50 per cent ownership in the under construction mall, Sushil Modi said that the manner in which Lalu Yadav, son of a peon, became the owner of a property worth Rs 500 crore was phenomenal and called it a rags-to-riches story. 
"It's a rags-to-riches story and I will urge filmmakers to make a film on his life on how a poor person today owns Rs 500 crore property. I demand Nitish Kumar to take action on Tejaswi and Tej Pratap, who are ministers in his government, and dismiss them from the cabinet," said Sushil Modi. 
Modi had alleged that Prasad during his tenure as Railway Minister had sold off two hotels in Puri and Ranchi controlled by the Railways to a hospitality chain owned by one Harsh Kochar in February 2005. 
"Kochar in turn got two acres of land registered in the name of Delight Marketing Company Private Limited, in which Lalu Prasad's wife Rabri Devi and his two sons Tej Pratap Yadav and Tejashwi Prasad Yadav were made directors," he had alleged. 
Replying to the allegations, the RJD supremo claimed Kochar was allotted the lease of the two hotels through a competitive bidding and the highest bidder was given the lease of the two hotels. 
Reacting to Prasad's comment, Modi claimed that his allegations have been proved "correct" as Prasad had himself "admitted" that he is the owner of the said land of two acres with an estimated cost Rs 500 crore. 
"I am happy that Lalu Prasad has admitted all the charges levelled by me. He has not denied any of allegations such as Delight company, LARA or his sons' shares in the company rather he tried to convince the people that it has been done in a legal and fair manner," Modi said.
Modi again demanded that Chief Minister Kumar sack Tejaswhi and Tej Pratap from his cabinet for allegedly getting benami properties transferred in their names. 
Seeking investigation into the "mall scam", Modi said that Kumar has been demanding from the Centre to attack benami properties and now he should act against his ministers as the properties lie in Bihar.