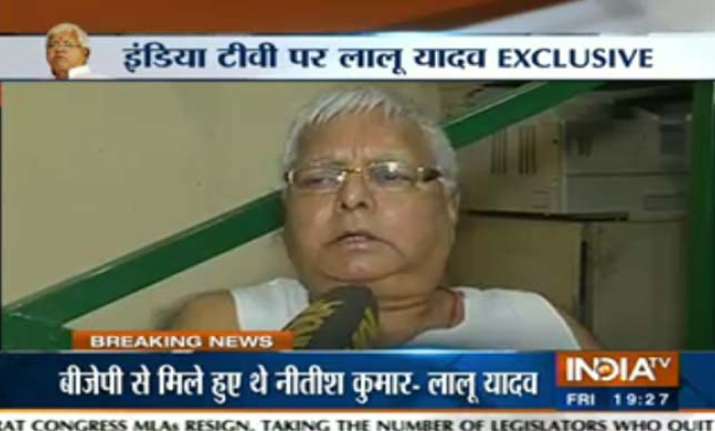 RJD supremo Lalu Prasad Yadav today launched a blistering attack on Bihar Chief Minister Nitish Kumar for parting ways from the Grand Alliance and joining ranks with the BJP in order to stay in power. Speaking to India TV at his residence here, Lalu accused Kumar of being hand-in-glove with the BJP to ensure the CBI and ED raids his family members to malign them.
He said that Nitish's resignation and his return to the NDA fold was a 'well-scripted drama' and the part of a 'fixed game' between the Janata Dal (United) and the BJP. The RJD supremo also rubbished Nitish's charge that his 'putra-moh' (love for his son) was responsible for the downfall of the alliance. The RJD leader even claimed that Nitish had secretly met BJP president Amit Shah on many occasions during his Delhi trips in last few months.
"We are observing vishwashghat diwas. It is a murder of democracy… was closely watching all developments... Nitish visited Delhi many times and secretly met Amit Shah," he said.
Lalu, who holds the record of longest serving president of a political party in the country, further said that he will 'never repeat the mistake of allying with Nitish'.
"Will never join hands with Nitish. No political party will forge an alliance with him. RJD enjoys the support of people… they will vote us to the power but no question of coming to the negotiating table now. Tejashwi rightly countered him in the Assembly… for me it was not putr-moh, it was 'moh for chhota bhai' (love for younger brother)," he opined.
"Before the elections, when media used to ask me what I will do if the RJD gets more number of seats… I had openly said that Nitish will be the leader of the alliance."
"Last evening I had chaired a meeting here and directed all MLAs to peacefully participate in the trust vote. There were rumours that the RJD will not allow the House to function," he replied to a question, adding, "it was wrong to invite Nitish to form government first because RJD is the single largest party and thus we were given the first change."
Chiding Deputy CM Sushil Kumar Modi, who had led a campaign for months against his family, Lalu said that the 'BJP is knee-deep in corruption'. He also took the opportunity to reiterate that a case of murder under Section 302 and 307 of IPC against Nitish is pending.
"On what ground is he (Nitish) questioning us. He himself is tainted. Nitish is first Chief Minister in the country who is accused of murder under Section 302 of the IPC," he said. "Nitish had admitted himself that he never sought Tejashwi's resignation. Nitish is not an agency… CBI or ED. I had told to convene a meeting of the alliance partners and sort-out the matter. Nitish not a CBI director... he is making interference into investigations."
The former Railways minister said that Nitish has 'committed political suicide' by reviving his friendship with the BJP and that the August 27 rally will be held in Patna in a bid to bring all anti-NDA parties under one roof to chalk out a common strategy to upset the ruling collation in 2019 general elections.
Nitish had on Wednesday evening resigned from the post of Chief Ministership, thus pulling down curtains on the 20-month-long Mahagathbandhan. He had said that it was 'impossible' for him to continue in the office with tainted Tejashwi Yadav, who was the second most powerful minister in the government of which RJD and Congress were the members. Within a few hours of dissolving the government, Nitish had staked claim to form a new government with support of the BJP. Meanwhile, the new government today smoothly passed the floor test with 131 MLAs voting in favour of Nitish in a 243-member House.